HTC takes a flyer on tablets
Scaled up Android smartphone ahoy
MWC 2011 HTC has entered the tablet game, announcing at Mobile World Congress a 7in, 1024 x 600 Android slate that will arrive in Q2.
Called the HTC Flyer, the tablet provides the customary features: 1.5GHz processor - dual- or single-core, HTC didn't say, so presumably the latter - 1GB of Ram and 32GB of storage.
For a gadget that looks so much like a scaled up smartphone, it's no surprise that Flyer has on-board dual-band HSPA 3G connectivity, plus 2.4GHz 802.11n and Bluetooth 3.0.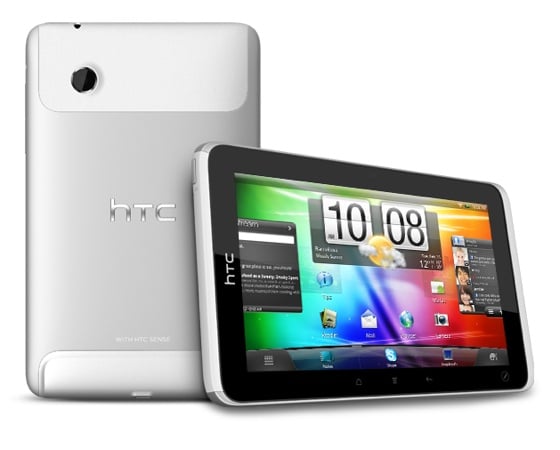 There's a 1.3Mp webcam and a 5Mp stills'n'video camera. Battery capacity runs to 4400mAh. There's a mini USB port.
HTC will be running its own smartphone-centric Sense UI on top of Android - version TBC - and equipping it with its own "digital ink" system, Scribe, which suggests an emphasis on stylus usage.
HTC also touted Watch, its upcoming movies-on-demand service offering "hundreds" of HD films from "major studios".
Flyer will be out in Q2, but HTC's not yet saying how much it'll cost. ®
COMMENTS
Stylus + Graffiti
I miss Graffiti text input (from the glory days of Palm).
There's a version available for Android:
http://www.access-company.com/cgi/nflife.cgi?a=app&aname=graffiti
which I am using (a bit) - but it's tricky to do well with a finger... ( "finger-painting vs nice sharp pencil")
intrigued t know how well a stylus will work.
A ten inch one of these things... could well be really useful - and novel :-)
S.
Stylus
I read elsewhere that it's actually a sort of wireless mouse that senses position on the screen rather than actually using the capacitive screen.
Sounds cool actually,
http://www.slashgear.com/stylus-wars-htc-strikes-back-15133538/
"What's different is the active stylus HTC has also included. It's no plastic toothpick, as we've grown to hate from resistive touchscreens, and nor is it a so-called capacitive pen which mimics a fingertip for some semblance of increased accuracy on slates like the iPad. Instead it's a truly different way of interacting with the Flyer by touch: the pressure-sensitive nib communicates its position wirelessly with the digitiser, while two barrel buttons default to erase and text-selection. To HTC's specially-coded apps, which at launch will be the only software that supports the stylus, the nib presents as a new type of touch event, distinct from a finger."
Prices... ANNOUNCE THEM ALREADY!
I've been patient, I've been frustrated, I'm now sick of waiting. They know what they want to charge, they know what they have to charge so what the hell is with every manufacturer suddenly becoming so quiet when it comes to tablet pricing? Are they all really hoping that if they hold back until a week before it's due out that a price of £stupid will be acceptable? It didn't work for the Galaxy Tab, that's now hanging around the £400 mark and was around £360 briefly on Amazon. Just announce a damn price already!
Both me....
... and the misses got HTC Desire's just before Christmas and we think they are great phones. The Sense UI is fantastic and would recommend to anyone, even scaled up for a tablet. My requirements would be on par with some of the comments on here, 10inch responsive screen, stylus and good battery life.
For me the tablet would just be a more portable, 'portable PC', problem is they are cost prohibitive at the moment as I can pickup a light weight netbook to do the job for much, much less that the tablet offerings...
three mobile
reckon it's not honeycomb, which is a little silly. Whatever it is, they're apparently stocking it.