Acer shows laptop lid look tablet
Iconia avoids iPad-alike styling of rivals
MWC 2011 Acer has unwrapped its iPad alternative, the ten-inch Iconia Tab A500, which features the now de rigeuer Android 3.0 Honeycomb.
Due in April, the A500 is powered by Nvidia's two-core Tegra 250 chip running at 1GHz. The 10.1in screen has a 1280 x 800 resolution, but you can also play content through the tablet's mini HDMI port.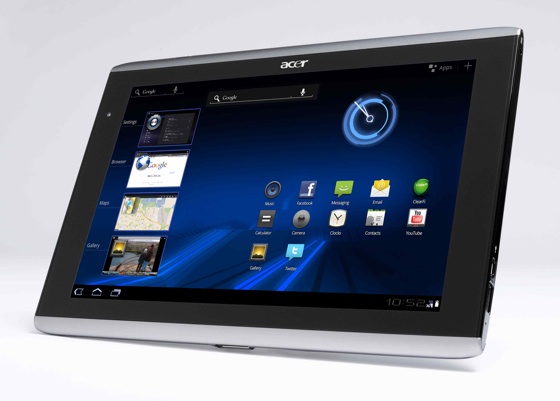 Wireless connectivity? 2.4GHz 802.11n W-Fi and Bluetooth 2.1 - it's "upgradeable" to 3.0, Acer said. And some models will incorporate quad-band HSPA 3G.
There's a gigabyte of Ram on board, plus a choice of 16GB or 32GB storage, to which you can add Micro SD cards of up to 64GB capacity.
The A500 sports a 5Mp camera on the back and a 2Mp camera on the front.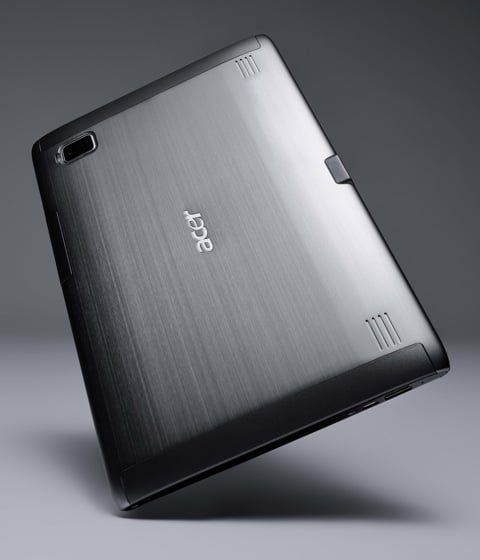 It has a 3260mAh battery - around half the capacity of the one in the 10in Samsung Galaxy Tab, though, at 700g, the Acer weighs more.
Pricing will be announced in due course, Acer said. ®
COMMENTS
It IS actually useful
I use the rear camera on my Galaxy Tab for taking pics of whiteboards etc and putting them into Evernote.
Ouch
Looks like they're in for a fail with a low capacity battery?
Battery life is the key
It looks a nice product but if (like their early netbooks) the battery life is dire then it will fail to sell in large numbers (just to the early adopters and gadget freaks - which could include me 8-).
Camera?
Can anyone explain to me why you'd want a rear-facing camera on a device like this? Genuine question, as I can't imagine a situation in which I'd need it, certainly not one to justify the extra cost, however little that may be in practice. I may, however, be missing the point..
Augmented Reality
Rear Camera is essential for AU apps like dishpointer.
http://www.youtube.com/watch?v=5AFtcgYRcu4&feature=player_embedded