Mysterious crypto-book dated to 15th century
Real life Da Vinci codex features nude ladies, too
Crazy illo of nudie hairband ladies splashing about in green jelly
Other theories on the puzzling manuscript abound: some suggest that Voynich created it himself and concocted the Bacon notion to boost its value – this has now been shown to be untrue as well. Others have suggested that the book was penned by various prominent alchemists, astrologers, physicians or other savants of various periods from the medieval to the 17th century – possibly as an encoded work (this was a common practice at times) or as a hoax or sting of some sort.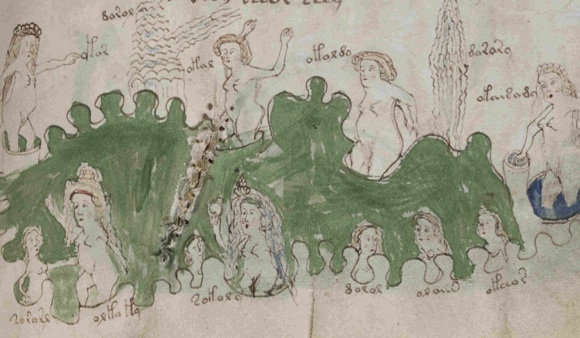 What the bloody hell's supposed to be going on here?
Since the 1912 re-discovery, various capable cryptographers have tried to decipher the script used in the book, but all have failed. This has led to speculation that the writing is all or mostly gibberish: that any information present is concealed using steganography rather than cryptography, and that any real messages are buried amid irrelevant padding.
The prospect also exists that even if the script does actually have meaning, that the information encoded is nothing more than alchemical or astrological mumbo-jumbo: methods for transmuting base matter into gold or predicting the future from star charts, or bogus sympathetic-medicine homeopathy cures and such like. Much of the accepted body of scientific knowledge in the early 15th century consisted of such stuff.
Still, as the Arizona uni spokespersons note, "this tome makes the Da Vinci Code look downright lacklustre" – and at least it is now confirmed as being very old.
If any of our crypto or stegano enthusiast readers fancy having a go, detailed imagery of the manuscript is available here. ®
Sponsored: Minds Mastering Machines - Call for papers now open