Nail'd
Quad bore computing
Depressed mode
Techland tries to compensate this small geography by introducing additional race modes and moderating driving conditions in its latter stages – none of which works. Tired old courses are regurgitated as lifeless Time Trials. And Stunt Races merely emphasise mechanics already critical to success in normal races.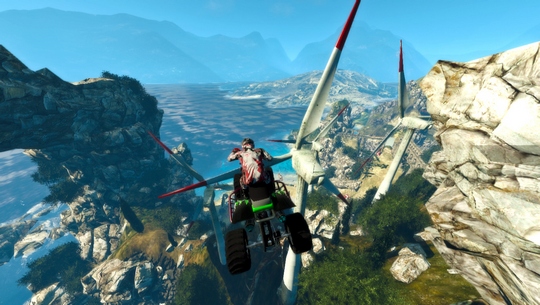 Confidence boost
But the worst introduction is Boost Madness Mutator Races. With an unlimited supply of boost, the accompanying screen shudder and rumbling pad mean it's no longer merely a videogame race, but a race to see what gets you first, apoplexy or arthritis.
This lack of variety hurts Nail'd's on-line offering, too. With no unique modes or tracks, the distraction of racing on-line proves all too short-lived. So much so that three months after its US release, it's virtually impossible to find anyone else to race against. When you do, those human opponents might mitigate Nail'd's greatest flaw and re-solidify crashes with much needed consequence, but they also serve to highlight its other, underlying weaknesses, as an insubstantial arcade racer whose parlour tricks soon grown tiresome.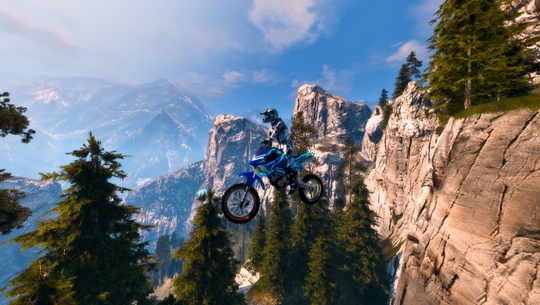 Flight simulator?
Verdict
Had Techland spent as much effort on gameplay as it so obviously has on visuals, I might be hailing Nail'd as a modest success. Instead, it plays more like a mediocre relic of a bygone gaming age. If you're in desperate need of some off-road action, do yourself a favour – ignore this and save yourself thirty quid by picking up a second-hand copy of the vastly superior Pure. ®
More Racing Games

Gran
Turismo 5
Need for Speed:
Hot Pursuit
F1
2010
Blur Vs
Split Second: Velocity
Sponsored: Minds Mastering Machines - Call for papers now open

Nail'd
Big jumps and beautiful scenery don't make up for small thrills and ugly gameplay. Available on Xbox 360 (tested), PS3 and PC
Price:
£40 (Xbox 360, PS3), £30 (PC) RRP