Nail'd
Quad bore computing
Crash tactics
The penalising mechanic that underpins challenge in all other racers is evidently ineffectual here. Following every crash, Nail'd respawns you safely on the track ahead of the offending obstacle or precipice with no time penalty - in some cases even increasing your lead slightly. Although it's not a defect players would readily exploit – crashing still irritates, after all – it's one that diminishes gameplay by engendering an irrevocable sense of invulnerability.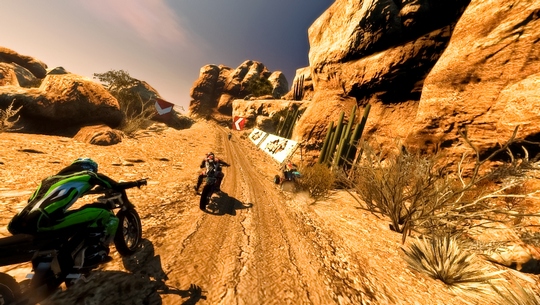 It's only rock and roll...
That feeling is augmented by the game's overall difficulty, which remains static throughout. While the tournament mode and system of bike upgrades suggest a progressive challenge through Nail'd's various league and cup competitions, it becomes clear that the AI drivers of the first race are as just as fast and aggressive as those of the 104th race. And it's not just your opponents who remain static – upgrades to your quad or motorcross bike are always zero-sum, so a new engine might boost top-end speed, but will come at the expense of handling and acceleration.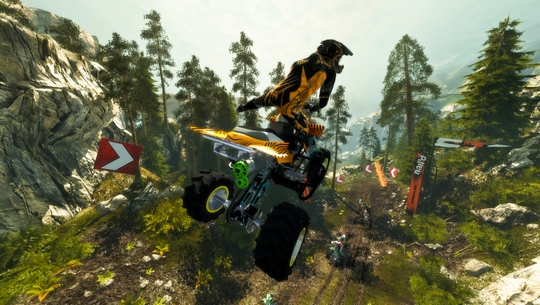 Perching in the treetops
Occasional spikes in difficulty ultimately prove false dawns. Although most are designed for three-lap races, several of Nail'd's tracks are special, giant one-lap downhill courses. These courses take the longest time to master – your first few attempts often in vain against an AI familiar with the shortest routes. But even downhill courses are memorised within half-a-dozen or so races. And with only 14-tracks in total, servicing 104-individual race events, Nail'd runs dry of novelty well before the tournament's halfway stage.
Sponsored: Minds Mastering Machines - Call for papers now open