Nokia Digital Radio Headset DAB
Well received?
Action stations
Once you've downloaded the free DAB radio app from the Ovi Store, there's a simple interface that allows you to scan for available stations – all laid out in alphabetical order. Once you've selected one, it will display whatever text info is available (programme name, track title etc) and you can skip to adjacent alphabetical stations using the large arrows. You can also save your favourites in a separate list so they're easy to find.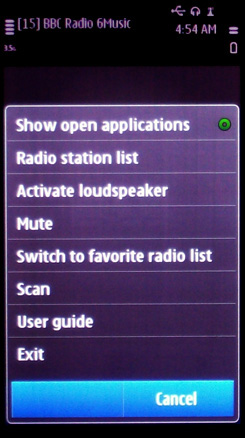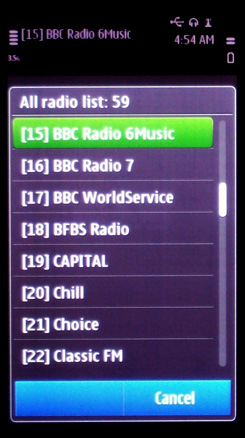 Easily laid out with all the options you'd expect
These are multi-purpose headphones too, so long as you remember to hide the app. You can use them to play tracks held on your phone, in which case the controls revert to standard FWD and RWD. The playback audio will cut off automatically when you receive a call, with DAB returning automatically when you finish. But if you want to use your FM radio, you'll have to remove the adapter and insert your headphones into the 3.5mm headphone jack, which seems like a trick missed.
As well as many of the stations you can get on FM (some of them with improved reception) DAB offers a host of specialist music stations including the Beeb's 6Music and 1Xtra and additional sports coverage on BBC Radio 5 Live Sports Extra.
Nokia's Digital Radio Headset doesn't offer quite the same range, and therefore choice, as you might get with a tabletop DAB radio equipped with an extendable aerial. For instance, in a simultaneous scan for new stations the Nokia turned up 58, while a Roberts Stream 63i produced 66 stations and Pure's Evoke Flow promised 64. Not a bad total though and, of course, as well as the greater range of stations, you'll also get generally better sound quality too.
With DAB, if the signal's not strong enough to reach you, you won't get any of it, but if your radio can pick it up, it will be distortion-free with no hiss or crackle, though at the limits of your device's range you may get occasional dropouts. It's still an improvement on the wax and wane you tend to get with FM when you're on the move.

Sponsored: Minds Mastering Machines - Call for papers now open