Lexmark Genesis multifunction printer
Space-saving and super swift
Viewing phone-type apps on a phone-sized screen attached to a damn great office gadget doesn't strike me as being particularly 21st century, and in particular the Google Calendar App that threatens to print out your meetings schedule seems to be a step back to the age of the Filofax. But I suppose it all adds to the fun.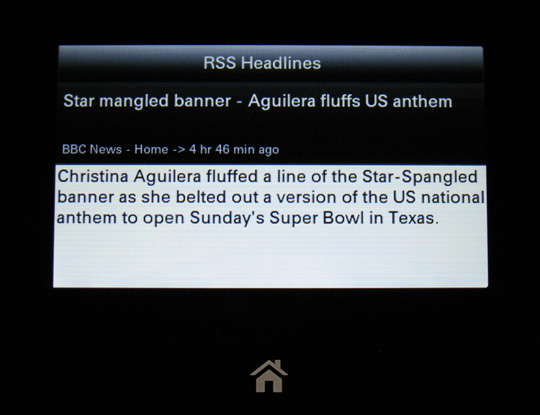 There's an app for this printer, quite a few actually, including this RSS feeds reader
The wide-angle camera introduces some slight linear distortion along the right hand edge, but for ordinary document work this is a great way to scan. I found a bug or two in the scanning software, but nothing I couldn't easily work around. The build quality is first rate – no squeaky plastic casing – and the print speed, ease of use and 3-year warranty certainly go some way towards justifying the premium price.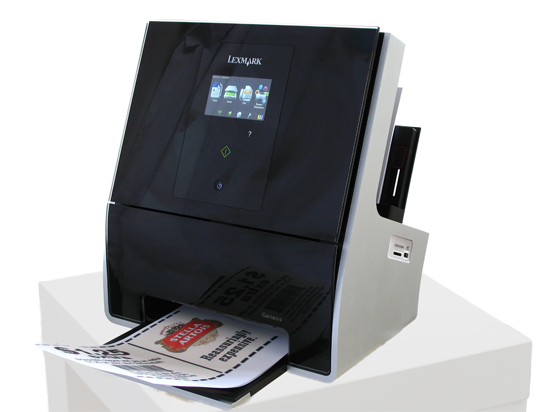 A space-saving form-factor, but at a wallet-wacking price
Verdict
Given its speed and versatility, I'm tempted to score this higher, but the professional office price for a (very nice) home office machine is the downer. If you get a move on, however, the Genesis S815 is included among the printers eligible for Lexmark's £200 cash-back offer that's ongoing until 31st March 2011 – details here. With this deal, the Genesis ends up at half the list price and so I'm inclined to base my rating on this promotional figure. Even so, it still ends up costing more than double the price of my 'trad tech' Epson though. ®
More Printer Reviews…

Bolle BP-10
iPhone photo printer
Budget
Mono Lasers
All-in-One
Inkjets
Desktop
Colour Lasers
Sponsored: Minds Mastering Machines - Call for papers now open

Lexmark Genesis multifunction printer
All-in-one printer featuring a super-fast LED scanning engine.