Lexmark Genesis multifunction printer
Space-saving and super swift
This instant image-making – the quoted figure is 3 sec per page – is a huge step up from a traditional scanner – does limit the resolution. The ageing (but much loved) HP ScanJet 4850 on the desk beside it here is typical of its class, with a top native resolution of 4800 x 9600 dpi. The Genesis tops out at only 300 x 300 dpi. This difference is crucial if you want to scan, say, 35mm negatives. But for ordinary A4 documents, postcard-size pictures, or even business cards, 300 x 300dpi is plenty.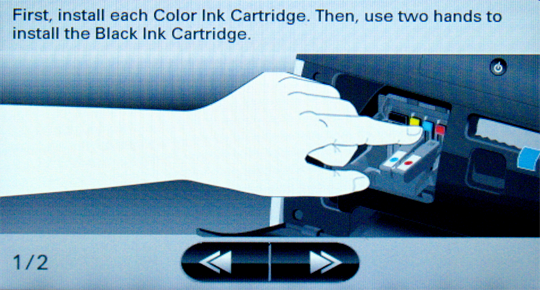 The animated display on the touch screen shows you how to change the ink cartridges
The thermal inkjet printer is fast for its class too. In keeping with recent trends in the business ink-jet market, it uses four separate cartridges (cyan, yellow, magenta and black) that should significantly reduce the cost per page – and this is from a company that used to be notorious for its total cost of ownership.
The manufacturer's figure of "up to 30 pages per minute" for colour is confirmed by my ad hoc tests, that showed it to be between two and four times faster than the Epson BX305. But if time isn't of the essence for you, the print and colour quality of both is about equal. And the Genesis – did I mention this? – is four times the price.
Key to the excellent usability of the Genesis is the 4.3in colour touchscreen. When you open the front panel, for example, while the cartridge carrier slides into the service position an animated movie on the screen shows you how to replace the ink. A similar movie helps you set up the wireless (802.11n) connection.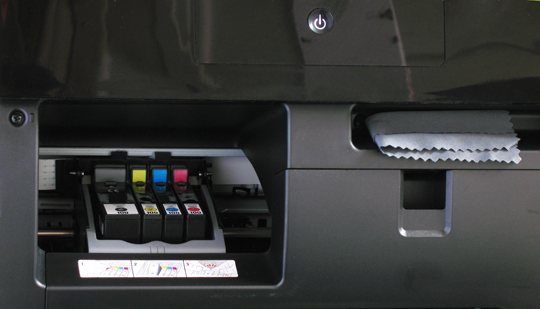 Open the front panel and the carrier slides into the service position. There's a cubby-hole for the dust cloth too
During operation, active icons on the touchscreen represent functions like Fax, Scan and Print. But you can also populate the screen with optional downloadable apps, a feature Lexmark introduced to its printers a couple of years ago. Logging in to Lexmark's Smartsolutions page on your computer allows you to instal apps (that connect the printer to Picasa, for example) by dragging and dropping icons inside your browser. There's an RSS Headlines app that will let you catch up on relevant news, and apps to connect your printer to Picasa, MobileMe, Flickr, PhotoBucket. And many others.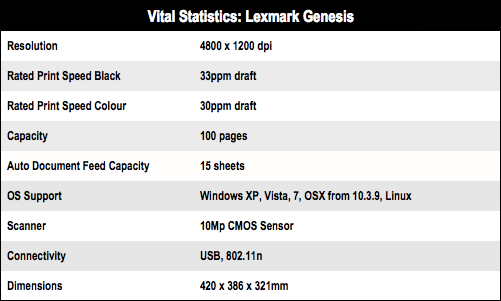 Sponsored: Minds Mastering Machines - Call for papers now open