Sound choice
Still, if you do just treat it as a PMP with a biggish screen for watching video then the Ziio works pretty well. The tiny built-in stereo speakers are predictably feeble, but the output from the headphone socket uses Creative's X-Fi technology to good effect, and the Ziio also supports the Apt-X audio codec for high-quality streaming over Bluetooth.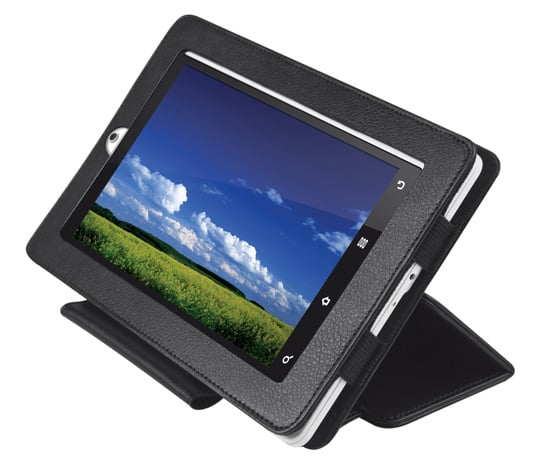 Hopefully, the Ziio's forthcoming Android update will address some of its limitations
The Ziio's video performance is good too. While the display isn't exactly high-def, it is perfectly watchable. I managed just a little under the quoted five hours of battery life when playing episodes of Dexter. And for less demanding tasks I found I was easily able to get a full day's use out of the Ziio before having to recharge the battery.
The one big disappointment here was the lack of Flash support, which means that the likes of YouTube and the BBC iPlayer aren't available – which seems like a fairly big omission in a device that calls itself a 'wireless entertainment tablet'. That said, the Skyfire app that transcodes Flash content does appear on the Ziistore, which is a possible workaround.
Verdict
The Creative Ziio does look rather limited when compared to some of its more ambitious tablet rivals – indeed, the refusal to provide access to the Android Market certainly seems like a rather short-sighted. But if you simply think of it as a portable media player with a 7in screen and a web browser, then it's a pretty good effort – and one that will earn its keep if you want to listen to music or watch some films on when travelling. ®
More Tablet Reviews...

Archos
101 8GB
Huawei
S7
Samsung
Galaxy Tab
Apple iPad
3G 32GB

Creative Ziio 7in Android tablet
Well-priced tablet that's more a big screen PMP than a touchscreen PC.
COMMENTS
no marketplace-no sale
Any android phone or tablet will make a good media player so saying this is good if just viewed as a media player is daft.
Couple more weeks I'll be getting a budget android handset and installing skyfire for iplayer as I already know it works and I have the option of flashing 2.2 onto the device I want to get.
For 200 quid this would have been tempting if I could use the full markeplace.
Too expensive
For a seven inch resistive (is that def. right?) screen, no Flash, running 2.1, no app store and a crappy speaker. Update promises are worth precisely nothing. You can get better specced tablets from China at half the price.
RE:App market?
So am I correct that you only can use the Android Market through cellular connections? Or is that a wrong interpretation of your comment?
Or can users indeed use wifi-connection to access the market but the device requires a cellular connection before Google allows them to have the app?
Any way I thought Android is "open"? Isn't that Android Market just another app? Why not use the .apk from another device and copy it to this tablet? Or is that to simplistic thinking? Why those stupid rules?
Why do these vendors make it all so difficult? Why is Google being such a hypocrite? They give the assumption of an open standard with equal features across a range of devices yet the reality is something completely different.
And why don't come ALL devices today with at least 2.2? Why the mess of 2.1, 1.6, 2.3. And then there's already a 2.4 announced AND an 3.0. What the hell are they doing? This is even worse than the different Windows Mobile editions from years gone.
Goddammnit Google!!!
Android != Android "With Google"
Why this stupid hypocrite crap?
I thought Android is android. Apparantly there's "Android with Google" and "Android without Google"
Can someone please CLEARLY put a list of these differences on a website!
What are these closed source core google libraries?
Please enlighten US potential CUSTOMERS!!!
Perhaps El_Reg can enlighten us? Please.
if only upgrades were that easy
<<If version x will run then version x+1 is guaranteed to fall on without difficulty.>>
And yet down the years I've ended up reinstalling Kubuntu from scratch every few updates when it falls over so badly that it's the quickest way to get going again. Windows hasn't had much less bumpy a ride here either. The idea that incremental updates are trouble free is laughably naive.
Sadly the same applies to in-place Android updates. However hard the packager tries, some users will end up with a borked phone at least some of the time. The safe alternative of fully replacing the OS and wiping their data+apps is not popular with users. It's a good incentive to put off or avoid updates.
The real incentive is that all the crapware they love to shovel over the OS takes it's own time to repair, as Android moves the goal posts with every release. Embed your crap too deeply and it breaks. It also doesn't upset them to think disappointed users might upgrade phone in frustration and enough will stupidly stick with the same manufacturer that just shafted them.
Let's face it: we all know going in that we're going to get the shitty end of the deal, with any part of the mobile industry.