Creative Ziio 7in Android tablet
Let me entertain you
Review The Android tablets that have appeared lately seem to suffer an identity crisis, often unable to decide whether they're simply big smartphones or genuine tablet-computing devices. Creative Labs has taken a different approach with its new Ziio, producing an 'entertainment tablet' that is essentially a larger version of its existing Zen portable media player.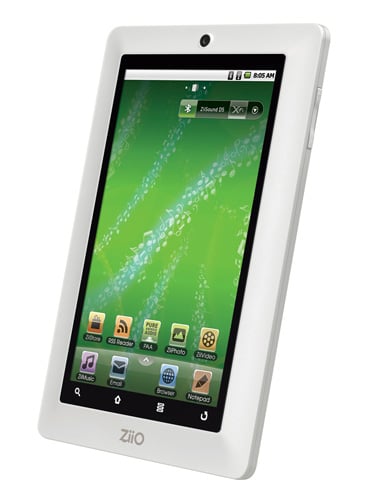 Media friendly: Creative's Ziio
The model that's currently on sale has a 7in screen, although there is a 10in model in the works as well. I tested the 8GB model, which comes in at £200, but there's a 16GB model also available for just £20 extra. The Ziio also has a slot for a MicroSD card, so you can easily add more storage if required.
It's powered by Creative's own ZiiLabs ZMS-08 processor running at 1GHz that's based on the ARM Cortex A8 – more details here. The Ziio currently runs Android 2.1, although Creative told us that it's planning an update to 2.2 "in the very near future".
The resistive touchscreen has a relatively modest 800 x 480 resolution but it's perfectly adequate for browsing the web and watching video. There's also a mini HDMI port on the top edge, so you've got the option of connecting to an HD TV if you want, although no cable is supplied.

Interfacing options offer big screen playback
Also along the top is a headphone socket, built-in microphone and volume control. There's a front-facing camera with VGA resolution just above the main screen, while the power connector is on the base. There's also a USB port for file-transfer, and the Ziio acts as a standard USB storage device when connected to a Mac or PC, so it's easy to copy files straight onto it. And, for networking, you've got 802.11g Wi-Fi and Bluetooth – but no 3G mobile broadband.
COMMENTS
no marketplace-no sale
Any android phone or tablet will make a good media player so saying this is good if just viewed as a media player is daft.
Couple more weeks I'll be getting a budget android handset and installing skyfire for iplayer as I already know it works and I have the option of flashing 2.2 onto the device I want to get.
For 200 quid this would have been tempting if I could use the full markeplace.
Too expensive
For a seven inch resistive (is that def. right?) screen, no Flash, running 2.1, no app store and a crappy speaker. Update promises are worth precisely nothing. You can get better specced tablets from China at half the price.
RE:App market?
So am I correct that you only can use the Android Market through cellular connections? Or is that a wrong interpretation of your comment?
Or can users indeed use wifi-connection to access the market but the device requires a cellular connection before Google allows them to have the app?
Any way I thought Android is "open"? Isn't that Android Market just another app? Why not use the .apk from another device and copy it to this tablet? Or is that to simplistic thinking? Why those stupid rules?
Why do these vendors make it all so difficult? Why is Google being such a hypocrite? They give the assumption of an open standard with equal features across a range of devices yet the reality is something completely different.
And why don't come ALL devices today with at least 2.2? Why the mess of 2.1, 1.6, 2.3. And then there's already a 2.4 announced AND an 3.0. What the hell are they doing? This is even worse than the different Windows Mobile editions from years gone.
Goddammnit Google!!!
Android != Android "With Google"
Why this stupid hypocrite crap?
I thought Android is android. Apparantly there's "Android with Google" and "Android without Google"
Can someone please CLEARLY put a list of these differences on a website!
What are these closed source core google libraries?
Please enlighten US potential CUSTOMERS!!!
Perhaps El_Reg can enlighten us? Please.
if only upgrades were that easy
<<If version x will run then version x+1 is guaranteed to fall on without difficulty.>>
And yet down the years I've ended up reinstalling Kubuntu from scratch every few updates when it falls over so badly that it's the quickest way to get going again. Windows hasn't had much less bumpy a ride here either. The idea that incremental updates are trouble free is laughably naive.
Sadly the same applies to in-place Android updates. However hard the packager tries, some users will end up with a borked phone at least some of the time. The safe alternative of fully replacing the OS and wiping their data+apps is not popular with users. It's a good incentive to put off or avoid updates.
The real incentive is that all the crapware they love to shovel over the OS takes it's own time to repair, as Android moves the goal posts with every release. Embed your crap too deeply and it breaks. It also doesn't upset them to think disappointed users might upgrade phone in frustration and enough will stupidly stick with the same manufacturer that just shafted them.
Let's face it: we all know going in that we're going to get the shitty end of the deal, with any part of the mobile industry.