A brief history of the BlackBerry UI
Obvious thinking
The first generation of BlackBerries
The first generation of BlackBerries – at least GSM ones as we saw them in the UK – had a two lines of icons – although there were more through scrolling. The excellent jog dial was a great mechanism for choosing which program you wanted. [Although RIM called it a 'trackwheel' to avoid the wrath of Sony.]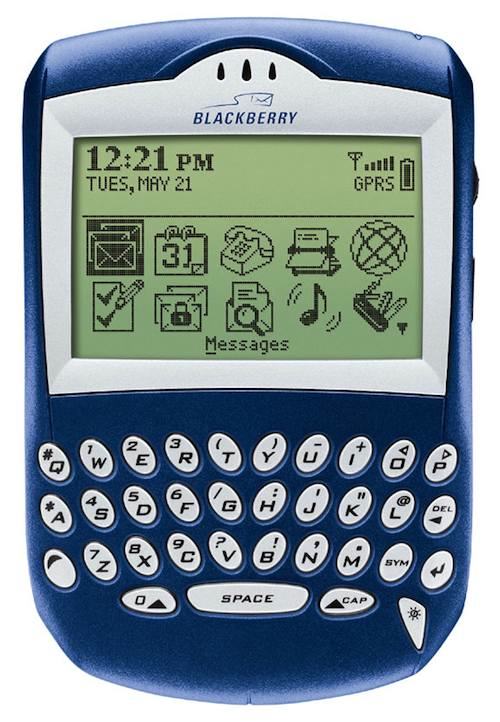 BlackBerry 6210
The process of select and confirm with a scroll and a click on the wheel was reasonably obvious and very quick. Keyboard shortcuts addressed the problems of scrolling through long lists: T for Top, B for bottom and M for more, when only part of a message has been downloaded. These mnemonics work well if you are an English-speaker but pose the problem with translation. Do you use new mnemonics in a different language – so that they are easy to remember, or do you keep them for consistency?
The advent of colour didn't affect the UI much. OK, we got three lines on the display, but a jog dial was still an excellent way to get through the menus. Unfortunately, the CSTN screen was muddy and poorly defined. Many users found their old, slimmer, monochrome device easier to use and read.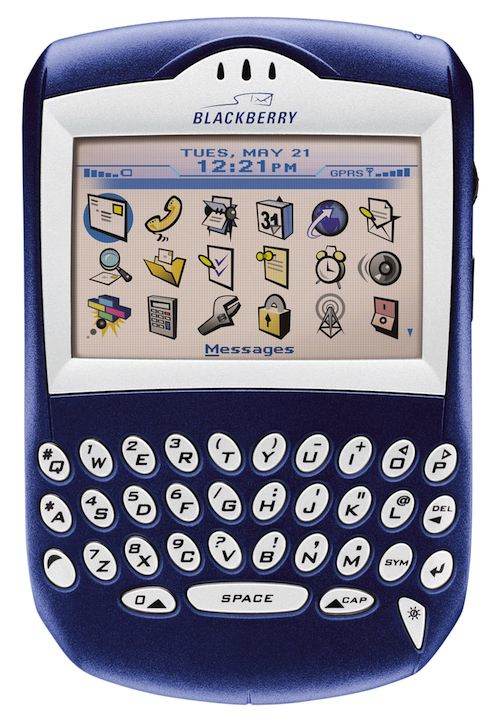 BlackBerry 7200
Despite being a Java OS, there was no need to add applications in the early days, but as time moved on the market changed. The increasing number of apps, growing screen size and the need to drill down into folders needed something where users could move more quickly from one icon to another without having to visit all those in-between. The track-ball provided the solution, again with a press to select.
Voice was no longer an adjunct to BlackBerry features and a more phone-like design meant that QWERTY keys wouldn't fit and be usable. While a high proportion of the world's population are happy with T9, American businessmen would rather use Christopher Scholes 1873 design than a Tegics' 1996 one. So QWERTY was fudged with a two-letter-per-key implementation called Suretype. This scores well on obviousness but ultimately falls between the stools of learning curve and eventual speed. This fate befalls the vast majority of text entry innovations from microwriting to fast-tap. Each develops its band of followers, but very few have seen the success of QWERTY or T9.
Understanding American businessmen, however, is something RIM is excellent at. This is why the phones have font scaling (albeit with a poor selection of fonts) and audio tone control, because old businessmen have failing sight and hearing.
Sponsored: Minds Mastering Machines - Call for papers now open