BBC iPlayer iPad app out this week
Beeb Tweeter sings like a canary
The BBC's iPlayer app for the iPad will be out on Thursday, a Corporation apparatchik has Tweeted.
The message comes from one Geoff Marshall and it reads: "iPlayer App for iPad is being released this Thursday - 10th Feb. 3G connection is browse only. Browse+Playback requires Wi-Fi."
Geoff's profile describes the fellow as a "BBC worker" and an "improv comedy performer", so we hope it's with the former hat he's Tweeting, and not the latter.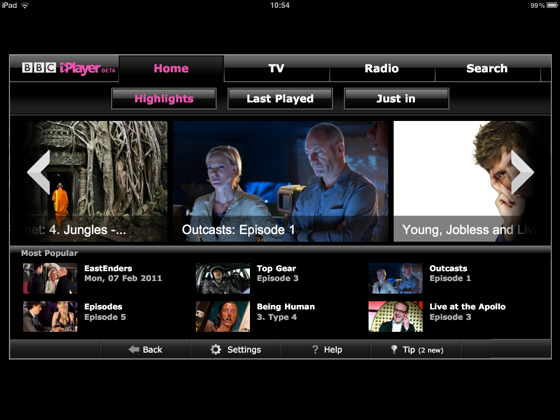 Who needs an app?
The joke, of course, is that iPlayer works well on the iPad even without an app. Just go to the 'big screen' iPlayer website in Safari, and create a desktop link to it, and since the page opens in a screen with the web browser bits masked, you have what is essentially an app anyway. ®
COMMENTS
License money well spent
I'm so glad that the Beeb is spending wads of my sodding cash making an 'app' for a specific fashionable device that duplicates existing functionality.
I might cancel my subsc... oh wait, it's the law that I have to pay them. Fantastic.
Well they won't
Apart from kit the upper echelons own, obviously.
Official Complaint Filed...
feel free to follow suit here:
https://www.bbc.co.uk/complaints/forms/
No it doesn't
***"Given that it already works just fine on all shipping iOS and Android devices, why bother with an iPlayer app for anyone?"***
No it doesn't.
To use iPlayer on Android you need the following:
Android 2.2 or higher
An ArmV7 processor
Plenty of "shipping" Android devices (e.g the HTC Wildfire) have ARMv6 processors and will never run Flash 10 ( and therefore iPlayer), and plenty more have Android 2.1 or lower and may never get an update.
Then, when you consider that *all" Android devices could get acceptable iPlayer service from the apps that the BBC killed and the iPad has acceptable iPlayer service *without* this new app, you have to wonder WTF the BBC is playing at.
No
Whilst the BBC acknowledges that Android has a position with the sphere of the mobile application user experience, the vision of the BBC does not synergise with the multi-faceted plane of operations that exists within the Android universe.
As a leader in beyond-blue-sky rolls-outs and co-laterisation of dynamic consumption methodologies, the iOS framework is a much better partner for delivering ad hoc, viewer determined entertainment within the scope of the personal media utility system.
Or something like that.
Probably.