Six... budget Blu-ray Disc players
HD hardware at low prices
Product Round-up Christmas is past but it's still winter. The nights are cold and damp. What better way to spend them that at home, snug the sofa, a cool nut-brown ale in your hand and a fine film on your new HD TV?
In which case, you'll need a Blu-ray Disc player. Manufacturers are, of course, hyping their high-end models. But for those of us who just want to watch the movie, the good news is that older models can now be had for well under £150 and, in some cases, less than £100.
That's not so very much more money than buying a new, HDMI-enabled DVD player will set you back, and here's the chance to be future proof.
To help you choose, here are six of the cheapest big-name Blu-rays on sale today - and not a true duffer among them. I tested them all on a 46in UE46C8000 LED TV courtesy of Samsung, using both Blu-ray and DVD editions of 300 for picture comparisions, plus assorted discs, AVI and MP4s for general testing.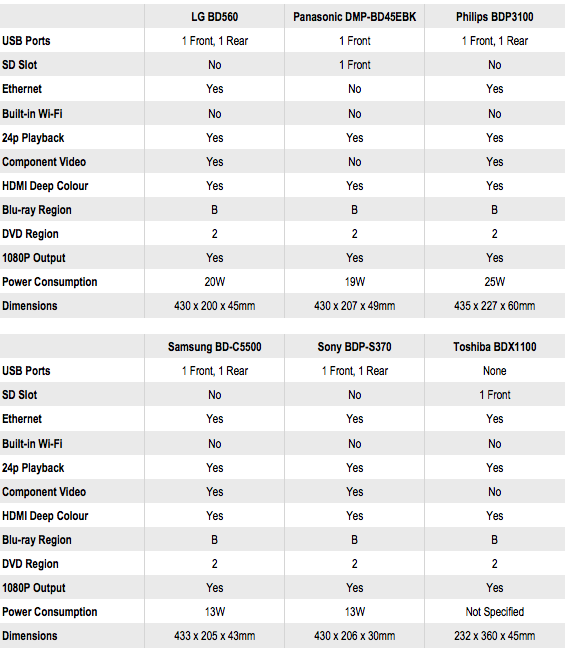 COMMENTS
Asda bargain
Philips BDP2700 £57 at Asda Penryn and they still had some left yesterday. Very happy with it. It supports NTFS and upscales from DVD and wmv very nicely.
composite output
It has composite output so you just need a cable with a scart plug on one end and 3xphono connectors (red, white and yellow) on the other.
Ah... how about the PS3?
PS3. Typically about $80 to $100 more than a decent blueray player (one that comes with built-in Wifi). But it's a better blueray player than almost any blueray player. And it's also a better DVD player than almost any blueray player. And the firmware gets regular updates and will continue to do so into the distant future (long past the point where other blueray players are being ignored). And it's extremely fast power-on and disc-to-play time too (as compared to most blueray players, some of which are simply annoying).
I bought another PS3 at Xmas for Cdn$250 (about UKP 160). Plus another $20 for the proper "dvd" remote control. YMMV.
DLNA
Less "suck it and see", more "It sucks, you will see".
Does anyone actually read these articles before publishing?
Sony BDP-S370
From standby to disc play took 21s, the fastest time recorded.
Samsung BD-C5500
the standby-to-play time is short, faster - just - than the Sony.