Nokia receives two credit-rating warnings
You're not as worthy as we thought ...
Two credit agencies have warned Nokia of a possible downgrade in its credit-worthiness. Standard & Poors has warned the company that a downgrade is "likely" once a three-month review into the company's prospects has been completed. Moody's made a similar warning last week after Nokia's earnings call, the FT notes.
Both cite competitive pressure from Apple and Android – as is usually the case. But Samsung's threat – it is perceived to make "Nokias" that are as good Nokia's own devices in many markets – is consistently underrated.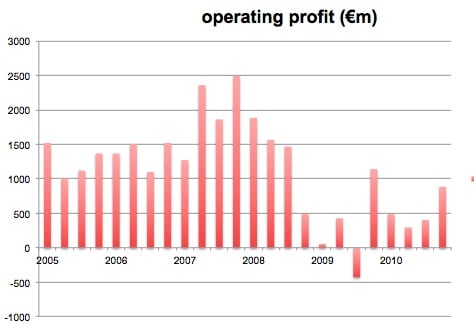 Pretax, pre-adjustment operating income from 2005 to 2010
You have to pinch yourself to remember that Nokia has posted just one quarterly loss in 18 years since the company's historic reorganisation in 1992. Why would it earn the kind of warning a banana republic might expect? Such is the perception of the markets, which have diminishing confidence in Nokia's ability to compete. ®
Sponsored: Are DLP and DTP still an issue?