LG Android 3.0 tablet out next month
G-Slate slated for Spring release
LG will release its Android 3.0 Honeycomb-based 9in tablet next month.
Inelegantly called the G-Slate with Google, the tablet has an 8.9in display that's not only multi-touch screen but also capable of showing 3D content, LG said, though it admitted later that you'll need 3D glasses.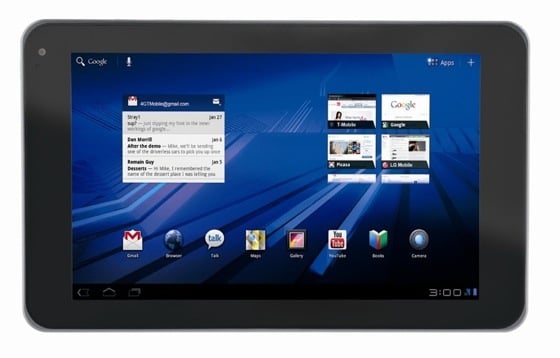 You can shoot your own 3D footage - there are two 5Mp cameras on the back. There's a 2Mp webcam on the front, too.
LG's love of Nvidia's dual-core Tegra 2 system-on-a-chip continues with the G-Slate, which has a 1GHz version on board, quite possibly the 3D-oriented Tegra 3D due this Spring.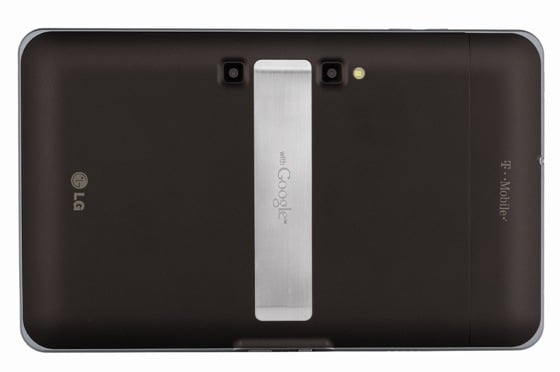 The tablet has 32GB of storage on board, can display 720p video on its own screen - suggesting a 1280 x 800 or 1280 x 720 display resolution - and 1080p through its HDMI port.
LG announced the G-Slate last night in the States. It didn't say how much the gadget will cost, or when it'll ship over here. In the US, it'll be out on T-Mobile as a 4G device - here it's likely to be Wi-Fi only or HSDPA 3G when it arrives. ®
COMMENTS
In which case..
..read a review, not a pre-release product preview.
Also I would like to know other things that aren't contained in your list and aren't bothered about some of them that are - why don't we let the reviewers cover what they want and you and I can make our own minds up from what we can find out.
Gadgets are only good
If she lets you play with her as she plays with the gadgets
Sounds pricey
I was hoping we'd see the prices of tablets fall as Apple got competition but it seems not, for decent ones anyway. I can see this costing as much as that W7 slate/tablet featured last week.
3D video capture? Really, who cares? And watching 3D on a 9" screen with glasses... dumb.
Yes and
My 17" monitor is only 16.3 hand drawn inches!
Also, why on Earth did you perform that little umm "test"?
Does this come with....
Does this come with a G string and a G spot. Perhaps aimed at the A merkin market.