Intel 'Sandy Bridge' mobile platform
Second-gen Core i7 CPU leaves its tyre marks
Core competency
Turbo Boost 2.0 has a significant effect on the performance of the Core i7-2820QM which has a base speed of 2.3GHz and which can run all four cores at 3.1GHz when the laptop is under load. If your software is only working two cores they can run at 3.3GHz (the other two idle), while a single core can whizz along at 3.4GHz (with three cores idling).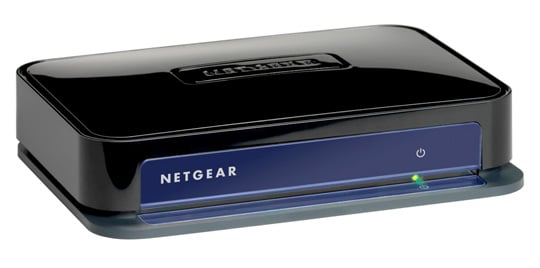 Netgear's Push2TV takes advantage of Intel's WiDi technology
Other features such, as the number of USB 2.0 ports, the inclusion of a BD-Rom drive and the absence of an ExpressCard slot are neither here nor there, as I do not expect to see an exact replica of this laptop on sale. Having said that, the long thin trackpad buttons are truly awful.
Sandy Bridge gives laptop and PC manufacturers the chance to move away from the crusty old BIOS by utilising UEFI, the Unified Extensible Firmware Interface and the whitebook makes use of an InsydeH20 Bios EFI framework.
However, this makes very little difference for tweaking as I was indeed able to navigate the UEFI menus using the touchpad but it was no easier than using the arrow keys in the traditional way.
Intel included an example of its Wireless Display or WiDi hardware with the whitebook, in the shape of the Netgear Push2TV HD unit which looks similar to a media streamer such as a WD TV.
Simply connect the Netgear box to your TV, fire up your Sandy Bridge laptop and start the Intel My WiFi utility. You need to let the two units exchange a Wi-Fi signal, wait for a four digit WPS code to appear on your TV screen, key the code into the laptop and bingo, your laptop screen is mirrored on your TV. I used an HDMI connection which fed audio to the TV speakers and the resolution of the picture was automatically adjusted to suit the TV.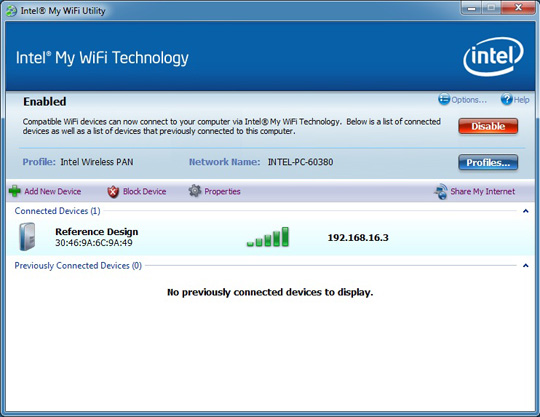 BSOD anyone? My WiFi console has a few creases that need ironing out
Overall, this seems like a superb way to stream media from your laptop to your TV, or to present PowerPoint without messy cables. That said, I cannot see any technical reason why WiDi requires Sandy Bridge hardware. Moreover, I was unimpressed by the Intel My WiFi console, which caused the laptop to blue screen and restart on one occasion. This could be due to early hardware or drivers, so it would be wrong to point the finger of blame.
Sponsored: Minds Mastering Machines - Call for papers now open