Dixons offers Angry Birds on the house
Hit game free from own-brand app store
Want Angry Birds for nowt? From tomorrow you can try and get a copy from the Currys- and PC World-branded versions of Intel's AppUp, the chip giant's netbook-centric online app store.
You'll need an Intel-based computer running Windows of course. While AppUp is intended for netbooks, since the Atom chip is thoroughly x86 compatible, downloads should run on any PC.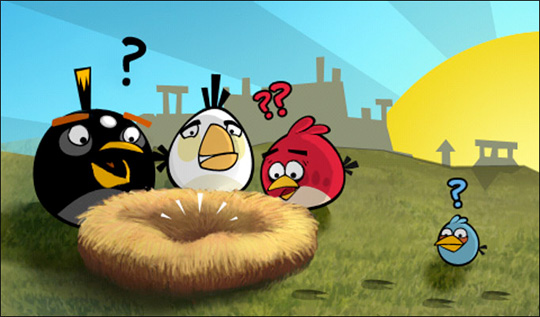 While Storks last?
Indeed, Currys and PC World owner Dixons said the offer was good for "netbooks, laptops and desktops".
You'll need to be quick, mind. Dixons said it'll only give away 15,000 copies, and the giveaway ends on 31 March 2011, or sooner if the download count passes 15,000. ®
COMMENTS
Angry Birds for free
But the Angry Birds extended warranty costs £10.
buy from dixons?
you been on the sherry again?
My netbook is fully compatible
with the bus between glasgow and muirkirk, isn't yours?
Not here.....
Downloaded the AppUp, registered and they offered me a free download of PacMan, but Angry Birds is still listed at £3.49......
It's an addictive little game.....
and took me 10 times as long to complete than MoH, any of the CoD or BFBC2 and cost me absolutely nothing.
Paris because it's fun to play with cheap birds.