Iomega SSD 128GB USB 3.0 drive
SuperSpeed performance anxiety
Review Kingston Tech is not the only SSD manufacturer now bringing out USB 3.0 external drives. Iomega's unimaginatively named SSD Flash Drive comes in three capacities: 64GB, 128GB and 256GB. With the latter costing £624, it's a purchase that demands a significant leap of faith.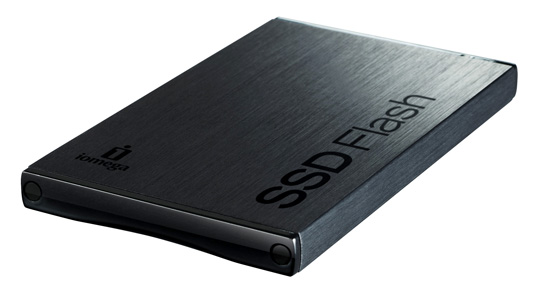 Iomega's SSD Flash Drive joins the SuperSpeed interface race
For that much money you might expect all sorts of fancy bells and whistles, but the only things you'll find in the box are the drive and a USB 3.0 Y-Cable, just in case you run into those dreaded low-power USB 2.0 ports. Despite a lack of hardware or software extras, the SSD Flash Drive does have one party trick; thanks to the inherently high performance of SSD's and USB 3.0's 5Gbit/s capabilities, Iomega claims you'll see up to 191MB/s reads and 130MB/s writes.
Performance aside, SSD-based external drives have one other huge benefit over traditional hard disks, namely, durability. Thanks to a complete lack of moving parts and a rugged aluminium enclosure, you're not about to lose your data when you accidentally knock the SSD Flash Drive off your desk as you reach for that vital early morning cup of coffee.

Sata SSD storage on the inside...
Upon further examination of the internal workings of Iomega's little black box, I discovered a very similar setup to that of Kingston's HyperX Max. In an aluminium nut shell, you have a Sata-to-USB 3.0 adapter mated to an SSD. In Iomega's case, this SSD is a Sata, 6Gb/s-capable 1.8in Micron RealSSD C300 – one of the fastest drives on the market at present.

...and USB 3.0 on the outside
Micron claims these drives are capable of reading at up to 355MB/s and writing at 215MB/s, a stratospheric amount higher than Iomega is claiming from its implementation. Can the Sata/USB adapter really be limiting it that much?
Sponsored: Minds Mastering Machines - Call for papers now open