Apple iOS app hunger swells
Survey says: App lovers love apps
The median user of an Apple iOS device has downloaded 88 apps: 63 are free, and 25 paid. Together with the 20 apps that come preinstalled on an iPhone, that user has 108 apps loaded onto their Jobsian smartphone.
Take those numbers with a few dozen grains of salt, however: the stats come from a survey conducted by analysts at Appsfire who surveyed "over 1,000 [iOS] devices registered and synchronized with the Appsfire service."
Seeing as how Apple has sold over 160 million iOS devices, such a small sampling doesn't provide data hearty enough to take to the bank. Also, Appsfire's data comes only from iOS users who have registered for its apps-listing service, so an argument could be made that users whom Appsfire is tracking are more apps-hungry than your average fanboi.
That said, there is some interesting information in the Appsfire survey, as long as you keep in mind from whom the data was gleaned.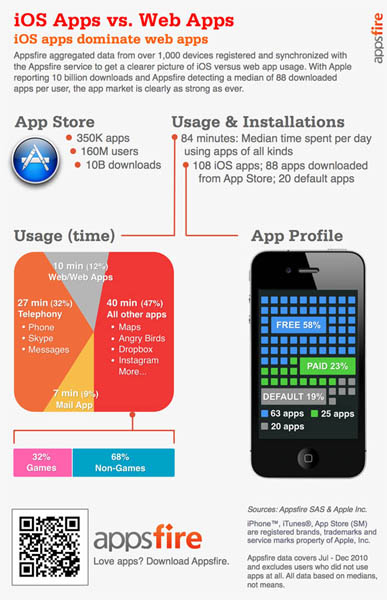 App users who use a lot of apps, well, use a lot of apps (source: AppsFire, click to enlarge)
For one, native apps soundly thrash web-based content viewing when it comes to the amount of time spent by the users surveyed by Appsfire. Out of the 84 minutes per day that those users spend with their device, only 10 minutes (12 per cent) is spent on the web or using web-based apps.
The other 74 minutes are spent using native apps (40 minutes, or 47 per cent); telephony apps such as the Phone app, Skype, and the like (27 minutes, 32 per cent); and the Mail app (seven minutes, nine per cent).
Out of those 40 minutes of native-app usage, users are playing games 32 per cent of the time. Of the 88 downloaded apps, 63 were free, and 25 were purchased.
Appsfire's numbers contrast with those in a recently published survey conducted by the "market intelligence" group Asymco, which put the average – mean, not median – number of apps per iOS device at "over 60."
Asymco's survey also points out that the rate of app downloads per device is rising faster than did songs-per-device back when the iTunes Music Store debuted.
"In the fall of 2008," Asymco's report says, "there were about 10 apps downloaded for every iPhone/iPod touch." Now that number is 60 in Asympco's estimate and 88 in Appsfire's. No matter how you slice it, that's a stunning growth rate. "Growth like this is hard to get one's mind around," Asympco says. "Not only are downloads increasing, but the rate of increase is increasing."
Or, as Appsfire puts it: "'Apps everywhere'...we told you so." ®
Sponsored: Minds Mastering Machines - Call for papers now open