Tablet envy
The touchscreen is as much about competing with smartphones and tablets as making a better reading experience, and so is the inclusion of an accelerometer. It's crudely done. Lay the Orizon flat on the table then pick it up. The portrait display will flip to landscape as you lift the device. It'll go back again when you stop moving, unless you react too quickly and try to outwit it by rotating the reader, in which case the screen will go portrait, then landscape. By which time, you've turned it upright again, and added another screen rotation the Orizon has to catch up with.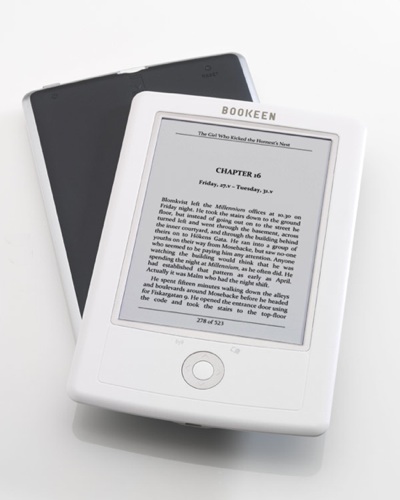 Well designed and solidly made
Would a faster CPU fix this? A display with a faster refresh rate certainly would. But short of going LCD, e-book readers can't do this yet. So why make your product behave as if they can?
The accelerometer can be disabled, thank goodness. And if you thus treat the Orizon as a traditional e-book reader and not as some kind of would-be iPad, you won't be disappointed. It's a good little reader. But if that's all you want, you may as well go the for the Kindle - it's cheaper and has a rather better screen.
Verdict
Bookeen has tried too hard to bridge the gap between e-book readers and tablets. As nice a reader as the Orizon is, the result is a gadget with unnecessary touchscreen text that has pushed up the price too far. ®
More E-book Readers

Amazon
Kindle 3
Sony
Reader
PRS-350
Samsung
E60
Imagin
IMEB-5

Bookeen CyBook Orizon
Skinny e-book reader with a 6in e-paper touchscreen.
COMMENTS
Lock in? WGAS?
Touch-screen seems a gimmick. It's true that when I show my Kindle to friends they almost invariably put their fingers all over the screen but I find a simple button-press is easier than having to wave my hand over the screen like some pretentious tic.
careful, your tin foil hat is slipping.
"Actually, you don't have any books on "your" Kindle - Amazon has. And it can and will remove them as it sees fit. And you cannot do anything about it."
So how are they going to do that if I haven't got wifi switched on ? Perhaps send pixies down the chimney to steal the mobipocket files whilst I sleep? And steal them from the usb stick that I store them on? Maybe they've planted a virus on my pc to delete the files when I plug in the kindle to copy new stuff over from manybooks, gutenberg etc. Good to see the crazies are still about.
Lock in?
The Kindle supports the MOBI format, plus PDF and HTML, so it doesn't have to lock you in to the Amazon format.
Lock-in?
I don't understand why you think Kindle makes you locked in to Amazon format. Mine supports mobi format and I've never had an issue converting ePub format for it either
On the other hand
I have no books on my Kindle that cost more than £0.00. I can upload PDF's or some other ebook formats (Use calibre - it's great - collates news on home PC and emails it to the Kindle as well).
OK, so the Amazon specific titles have DRM. Oh, I don't have any.
There is no lock in to the Amazon format, if you don't want there to be.