Lag
The Kindle has a physical keyboard for entering URLs. While the Orizon's virtual equivalent isn't hindered by the Kindle's clumsy system for entering symbols and its keys are sufficiently spaced to minimise mis-hits, you'll invariably find the screen struggling to keep up with your taps.
And with no cursor, even one that doesn't flash, it's hard to know whether the field you want to type into - the space for a web address or Google's search field, for instance - is the one that's going to receive your input.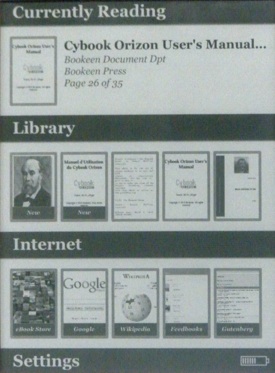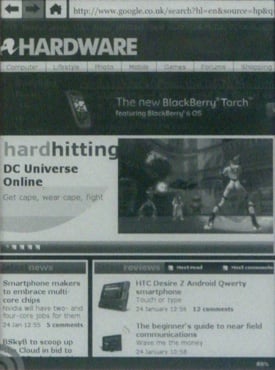 The Orizon's e-paper screen comes from SiPix rather than E Ink
The lack of feedback is incredibly frustrating at times, as is the general speed of the device. There's always a brief but very noticeable lag between tap and effect.
This is true of all e-book readers I've looked at, including the Kindle, but here it seems somehow exaggerated because you're steered to do everything by touch. Yes, swiping to turn a page does seem more natural than pressing a button, but if you're flicking through pages, it's pain in the proverbial. Thank goodness Bookeen has included its customary five-way navpad for quicker page-to-page movement.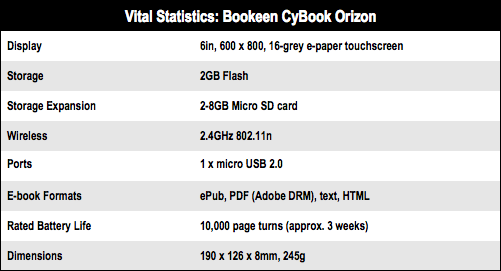 COMMENTS
Lock in? WGAS?
Touch-screen seems a gimmick. It's true that when I show my Kindle to friends they almost invariably put their fingers all over the screen but I find a simple button-press is easier than having to wave my hand over the screen like some pretentious tic.
careful, your tin foil hat is slipping.
"Actually, you don't have any books on "your" Kindle - Amazon has. And it can and will remove them as it sees fit. And you cannot do anything about it."
So how are they going to do that if I haven't got wifi switched on ? Perhaps send pixies down the chimney to steal the mobipocket files whilst I sleep? And steal them from the usb stick that I store them on? Maybe they've planted a virus on my pc to delete the files when I plug in the kindle to copy new stuff over from manybooks, gutenberg etc. Good to see the crazies are still about.
Lock in?
The Kindle supports the MOBI format, plus PDF and HTML, so it doesn't have to lock you in to the Amazon format.
Lock-in?
I don't understand why you think Kindle makes you locked in to Amazon format. Mine supports mobi format and I've never had an issue converting ePub format for it either
On the other hand
I have no books on my Kindle that cost more than £0.00. I can upload PDF's or some other ebook formats (Use calibre - it's great - collates news on home PC and emails it to the Kindle as well).
OK, so the Amazon specific titles have DRM. Oh, I don't have any.
There is no lock in to the Amazon format, if you don't want there to be.