Bookeen CyBook Orizon
Kindle killer?
Tablet envy
The touchscreen is as much about competing with smartphones and tablets as making a better reading experience, and so is the inclusion of an accelerometer. It's crudely done. Lay the Orizon flat on the table then pick it up. The portrait display will flip to landscape as you lift the device. It'll go back again when you stop moving, unless you react too quickly and try to outwit it by rotating the reader, in which case the screen will go portrait, then landscape. By which time, you've turned it upright again, and added another screen rotation the Orizon has to catch up with.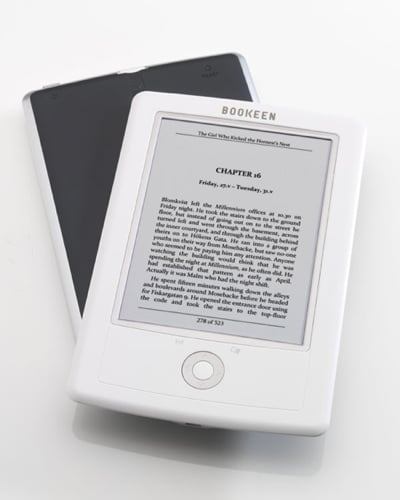 Well designed and solidly made
Would a faster CPU fix this? A display with a faster refresh rate certainly would. But short of going LCD, e-book readers can't do this yet. So why make your product behave as if they can?
The accelerometer can be disabled, thank goodness. And if you thus treat the Orizon as a traditional e-book reader and not as some kind of would-be iPad, you won't be disappointed. It's a good little reader. But if that's all you want, you may as well go the for the Kindle - it's cheaper and has a rather better screen.
Verdict
Bookeen has tried too hard to bridge the gap between e-book readers and tablets. As nice a reader as the Orizon is, the result is a gadget with unnecessary touchscreen text that has pushed up the price too far. ®
More E-book Readers

Amazon
Kindle 3
Sony
Reader
PRS-350
Samsung
E60
Imagin
IMEB-5
Sponsored: Minds Mastering Machines - Call for papers now open

Bookeen CyBook Orizon
Skinny e-book reader with a 6in e-paper touchscreen.