Little Big Planet 2
Salvador Dali eat your heart out
Customisation is custom
I love Sackbots. Well, to be exact, zombots. Sackbots are little robot non-playable AI Sackboys who have been altered by the nefarious Negativitron. I got to save them all and in return they will help you out. I managed to electrocute and burn more than a few of these little guys while taking them through the tasks you need to complete to get their unconditional love.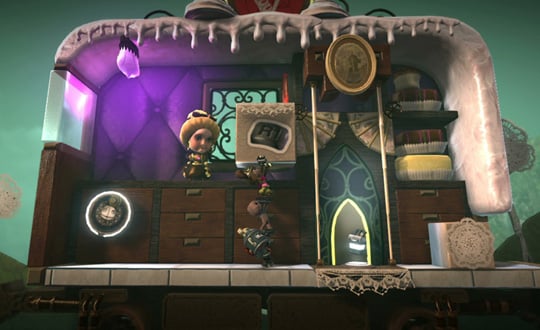 What a bunch of hangers on
You can also dress them up, resize them and program them with the weirdest characteristics. Whether you want them to be allies or enemies or just your own personal zombie cheerleaders, these little guys are ace. Get them to do your dirty work with the help of the Controllinator. Another really cool gadget that allows you to make stuff move just how you want.
Customisation usually means a new costume or haircut, Little Big Planet 2 is only limited by your imagination. Ever dreamed of having your own game development platform? Well, now you do. Yes, you've fought your way through beasties and welded cupcake guns to beat all your mates to the high score, but now the fun begins. Stephen Fry, the game's gentle host, will take your hand like a friendly giant and lead you through enough tutorials to make your mind boggle – which covers topics such as animation, music and scenery creation.
Ever get the feeling you're just a misunderstood artist? Well, wallow no longer. World wide exposure is just a click away. Just upload your designs to look like you're something straight out of Juxtapoz magazine. OK, so maybe your no da Vinci and you haven't got Sistine chapel amounts of time. Instead, why not have a look at the wealth of community created content and spend your time immersed in the creativity of others. Bored of flaming me? Comment on and rate someone else's surrealist fantasy.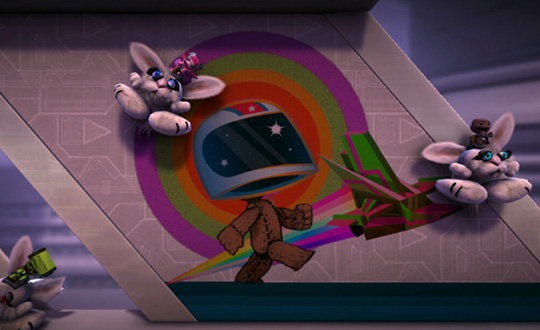 Hoppollo 11
Verdict
Above all, this game is stunning – literally, take your breath away colours and textures. I love this game and suspect, come December 2011, it will still hold its place as my game of the year.
Little Big Planet 2 does not disappoint, boasting loads of bold and beautifully diverse level designs and countless new collectibles. Some might be looking for more of a challenge but I don't think anyone could find this game dull. Ultimately, with the rewarding multiplayer game play and community customisation, this game is only limited by your time and imagination. ®
More Games Reviews

DC Universe
Online
Mass Effect 2
For PS3
World of Warcraft:
Cataclysm
Donkey Kong
Country Returns
Sponsored: Minds Mastering Machines - Call for papers now open

Little Big Planet 2
Beautiful and innovative, is it Christmas 2011 already? Thanks Sony. Available on PS3 only.