Sepaton whups Data Domain on performance
Cluster-wise, not node-wise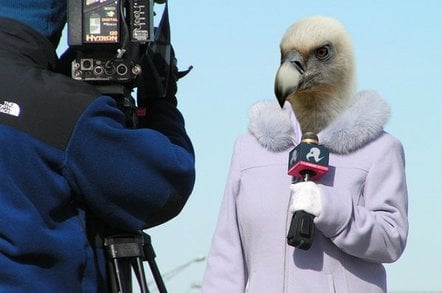 Sepaton's sixth generation dedupe software with OST support makes its clustered system faster than Data Domain's top system, rampaging through incoming data at 43TB/hour.
Sepaton produces S2100-ES2 1910 and 2910 high-end deduplicating virtual tape libraries that can have up to eight 2U head nodes clustered together, with a global deduplication scheme and content-aware features to improve dedupe efficiency.
Nodes can be added non-disruptively and performance, Sepaton says, scales linearly. Performance and capacity can be scaled independently.
HDS provides AMS 2100 arrays for back end data storage, up to 1.6PB per node, and HP OEMs the Sepaton product for enterprise deduplicating backup-to-disk needs.
The new software has moved from 32-bit to 64-bit code and drives the hardware faster. Tim Butchart, Sepaton's VP and general manager for its EMEA operations, said that the new software brings in support for 8Gbit/s Fibre Channel and Symantec's NetBackup Open Storage (OST), specifically "on 10Gbit/s Ethernet concurrently with Fibre Channel tape emulation", according to Sepaton's release. This OST support helps the software drive the hardware faster.
Sepaton says its product efficiently deduplicates both progressive incremental TSM (Tivoli Storage Manager) backups and multi-streamed database backups. It claims the gen 6 software delivers the industry's highest dedupe ratios around for a broad set set of TSM environments.
Individual S2100-ES2 nodes can ingest data at 1.5GB/sec, meaning 5.4TB/hour. This is slower than Data Domain's latest top end box, the DD890 and its 14.7TB/hour (with Boost) but there can only be a maximum of two of them in a Data Domain cluster, meaning 26.3TB/hour, whereas an 8-node Sepaton cluster can hoover up data at 43.2TB/hour. In theory a 16-node S2100-ES2 cluster could gobble up data at 86.4TB/hour.
Sepaton's EMEA MD, John Mills, said: "The real need is for restore speed… Nobody on the planet wants to run at 43TB/hour; no-one has an infrastructure that fast. A UK supermarket retailer has a 12TB customer loyalty database now and expects it to be 60TB in two years' time. Restoring something that big needs something fundamentally very fast."
The S2100-ES2 with gen 6 software can restore at 43TB/hour if the circumstances are right. Actual restore speed varies by customer. Ones with a single Oracle database, for example, can only restore through a single port, meaning a single node, meaning in turn up to 5.4TB/hour.
Clusters can now run up to 16 nodes; actually they could already but customers haven't been asking for more than 8 nodes. Sepaton's view is that customers may not need 16-node clusters now but the rate at which data is growing means they will need the comfort of that cluster node count headroom in the future.
The company is making a point that managing a cluster of boxes is much easier and less expensive than managing separate boxes.
The S2100-ES2 system has multi-tenancy features making it suitable, Sepaton says, for cloud backup needs. Sepaton also says its new software means its systems are up to four times more efficient in power and cooling terms than its previous systems.
Sepaton is expanding in Europe, having appointed Butchart as its EMEA boss three weeks ago, and opened an office in north Germany. It expects to open two more this year, one in southern Europe and another in northern Europe.
A lot of investment is going into its channel programme, and into channel-relevant product technologies. This could be a tacit admission that there is little opportunity now for additional high-end OEM partners beyond HP.
There is a hint that forthcoming variants of the existing S2100-ES2 1910 and 2910 products could enable capable channel partners, ones specialising in the high-end storage space, to use different back-end storage.
We should expect Sepaton to provide NFS and iSCSI access to its products at some stage, and also WORM (Write Once Read Many) technology. Regarding encryption, Mills said channel partners could provide it now through other products, adding: "We're not about to invent our own."
The gen 6 software is shipping now, and existing supported Sepaton customers should receive it as a no-charge upgrade within the next 90 days. Base pricing for the S2100-ES2 starts at $257,500. ®
Sponsored: Minds Mastering Machines - Call for papers now open