Aussies demand Poms cough up first 'Australia' map
Oz 'Elgin Marbles' were drawn by Brit while in Mauritius
A group of Oz agitators is demanding Blighty hand over the first map of the Lucky Country to use the word "Australia".
The Australian "birth certificate" was drawn up by Brit explorer and cartographer Matthew Flinders, a Royal Navy officer, who from 1801-1803 surveyed Terra Australis, as it was then known.
The home leg of his journey proved eventful, as he was captured by the French and imprisoned on Mauritius for six years, although he put the time to good use drawing the historic map of Down Under.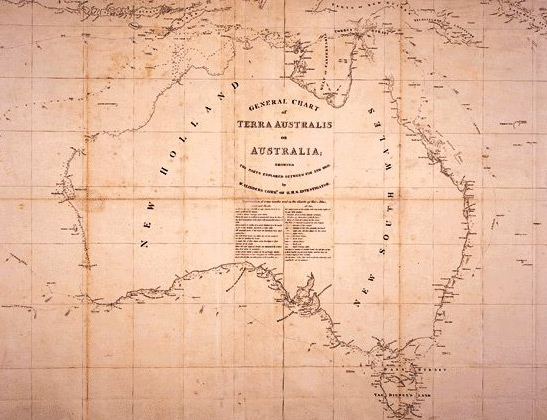 Flinders died in 1814, shortly after his work was published (see pic). His suggestion that the land be called Australia was finally adopted by the British Admiralty in 1824.
Now, on the eve of Australia Day, academics, politicians and students have assembled under the statue of Flinders in Melbourne to demand the original map's liberation from the United Kingdom's Hydrographic Office in Taunton.
The president of Federation of Australian Historical Societies, Professor Don Garden, told the Sydney Morning Herald: "It seems the birth certificate of Australia because it was the first time there was a map of Australia drawn up, the first time that title was used. It is a significant part of our history."
Garden was joined by students from Flinders Christian Community College in Tyabb, a Melbourne suburb, who intend to write to David Cameron expressing their displeasure that Flinders' work is gathering dust in Somerset.
School captain Matthew Harrison told the crowd: "Being a school that is named after the great Matthew Flinders, we believe that it is within our responsibility to rise up and fight to reclaim this significant historical map that is rightfully ours."
Greg Hunt, opposition heritage spokesman and member for the constituency of Flinders in the state of South Australia, has thrown his political weight behind the campaign.
He classifies the map as the "Elgin Marbles of Australian history", and has asked defence secretary Liam Fox to act to ensure it is in Oz in time for the bicentenary of Flinders' death in 2014.
Hunt is also hoping 100,000 people will sign a petition for cartographical justice. He told the Australian Associated Press: "This is the true birth certificate of our nation and deserves to be placed on public display here in Australia." ®
Bootnote
We here at the El Reg Bootnotes department wish all our Oz readers a lively Australia Day, and will be cracking a few cold ones in honour of the intrepid Matthew Flinders.
Sponsored: Minds Mastering Machines - Call for papers now open