NASA rovers to lose comms this week as Mars moves behind Sun
Opportunity to blast rock with cobalt rays while it waits
NASA has announced that its surviving Mars rover will be unable to receive commands from Earth for much of the week, as the red planet is about to pass behind the Sun. The plan is for rover Opportunity to spend the blackout period sitting stationary, (gently) blasting a rock with a cobalt-powered radiation beam.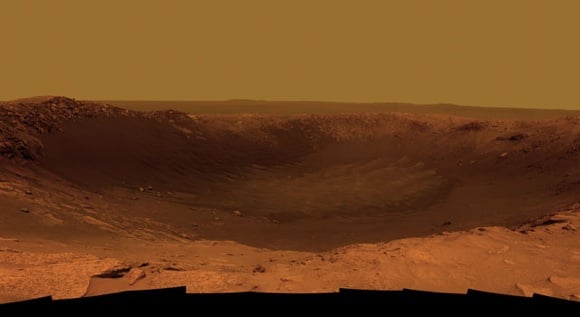 Mineralogically different from anywhere yet surveyed. Full image here.
According to a statement issued by NASA's Jet Propulsion Laboratory (JPL) in California, from which the rover is directed:
During the days surrounding such an alignment, called a solar conjunction, the sun can disrupt radio transmissions between Earth and Mars. To avoid the chance of a command being corrupted by the sun and harming a spacecraft, NASA temporarily refrains from sending commands from Earth to Mars spacecraft in orbit and on the surface. This year, the commanding moratorium will be Jan 27 to Feb 11 for Opportunity, with similar periods for the Mars Reconnaissance Orbiter and Mars Odyssey orbiter.
It will still be possible to receive transmissions from the rovers and spacecraft on or in orbit around Mars, as there is no risk from a corrupted signal in this case – though bandwidth is decreased. NASA's Mars Reconnaissance Orbiter will be compelled to reduce the amount of data it gathers during the conjunction; its onboard storage isn't enough to make up for the cut in download speeds to Earth.
Meanwhile, down on the Martian surface, rover Opportunity has now crawled across the haematite steppes of the Meridiani Planum to reach the "Santa Maria" crater. The plucky robot is now parked up next to a rock formation dubbed "Luis de Torres", preparatory to spending the conjunction period zapping it using an instrument known as a Moessbauer spectrometer. This shines radiation at the rock and observes the spectrum of the resulting emissions, thus determining the material's exact makeup.
The necessary radiation comes from a small piece of cobalt-57, steadily decaying. As cobalt-57's half-life is less than a year, the source's radioactivity has dwindled by 99 per cent during Opportunity's seven-year sojourn on Mars, meaning that it nowadays takes a long time to get a decent reading with the Moessbauer spectrometer. JPL boffins consider the task a suitable one for the rover to carry out unsupervised while the solar conjunction passes.
Apparently the area in which "Luis de Torres" is located shows up from space as having a different makeup from any area yet surveyed by rover.
"The goal [of the spectrometry readings] is to characterize the materials in an area that shows up with a mineralogical signal, as seen from orbit, that's different from anywhere else Opportunity has been," says JPL's Bruce Banerdt.
Opportunity's companion rover, Spirit, was landed in the Gusev crater on the other side of Mars. It too continued operating for years after its initial planned mission duration of three months, but in 2009 the plucky robot became bogged in a sandpit and all efforts to free it proved unsuccessful. Unfortunately, the mired rover's solar cells were left tilted southwards, and the Gusev lies in Mars' southern hemisphere. The onset of southern-hemisphere Martian winter last (Earth) year meant that Spirit was almost totally unable to generate any power – normally it would have driven onto a north-facing slope. As NASA's boffins had feared, the machine appears not to have awakened from low-power hibernation with the coming of local spring; it will probably not be heard from again, though a listening watch is still being maintained.
Opportunity seems in good nick, however. After the solar conjunction is over and the Santa Maria crater has given up its secrets, the JPL mission team plan to drive the rover onwards toward the Endurance crater, some 6km away. There seems to be every prospect that Opportunity will still be operational when NASA's next Mars rover, dubbed "Curiosity", arrives at the red planet in 2012.
The larger, Humvee-sized Curiosity will use nuclear power rather than solar cells as seen on Spirit and Opportunity. This will mean that the new machine is much faster and more capable (Opportunity has taken seven years to cover just 26.7km in the weak sunlight of Mars), and will be able to survey much more territory. However, in time Curiosity's radioisotope fuel will be exhausted and it will cease operations – under current NASA plans this is expected in 2014. There has to be some chance, barring mishaps or mechanical breakdown, that the veteran Opportunity may yet be going at that point. ®
Sponsored: RAID: End of an era?