Report shows €240bn drop in music retail over 7 years
Spanish pirates steal musical investment booty, says IFPI
Even if you're all numbered out, there are some interesting nuggets in the latest annual compendium of figures from IFPI, the sound recording industry's global trade group.
The group is keen to draw the connection between piracy and failure to invest in talent. In Spain, where piracy is rampant after mismanaged hikes in royalties, not one new Spanish artist made their debut in the Top 50. Seven years ago, 10 new Spanish artists appeared in the Top 50. Forty-four per cent of active internet users also use unlicensed music sites – twice the European average. It creates a vicious circle, with music investors in Spain more likely to bet safe, and less likely to invest in new native talent. Spending on recordings has halved in Spain in five years.
So if you're wondering why there's so much old, or cynically dreary music filling the charts and TV, ask your neighbouring freetard. (Of course TV and radio producers could choose to publicise more fresh talent from the independent sector – and not to let them off the hook, they should – but they're under pressure to "reflect what's popular" as well as promote new talent).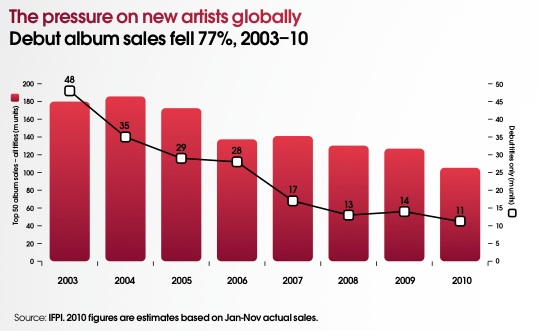 Bars: global album sales (units,m); Line: debut titles only (units,m)
Same old, same old?

IFPI reckons that retail losses to piracy from 2008 to 2015 will amount to €240bn in Europe, with the loss of 1.2m jobs. The recording industry trade group uses a substitution ration of 10:1, meaning 10 illegal downloads average out at one lost sale. Spotify lent its support to the industry by urging ISPs to bundle its service with their core offerings.
The figures undermine one widely-held belief. Live revenues are increasing, but that's down to more expensive tickets. Yet greedy promoters have been overmilking the herd; ticket sales fell by 12 per cent last year. Too many dates, too many festivals ... too many vintage oldie acts, perhaps?
Overall, digital music makes up 29 per cent of trade revenue, or $4.6bn in value.
There's lots more, here. ®