NOVA 2 for iOS
Shoot through padding
Review Supersoldier required for highly autonomous role in planetary defence organisation. Duties include relentless futuristic combat, security door hacking and driving through superfluous vehicle sections. Must be highly competent with a variety of human and alien weaponry, and must wear own advanced battle armour. Will be comfortable cowering behind scenery while recharging shields and happy to engage in clichéd banter with stacatto-talking female AI sidekick. Only candidates with recent experience in fighting belligerent alien alliances and disarming omnipotent ancient artefacts need apply.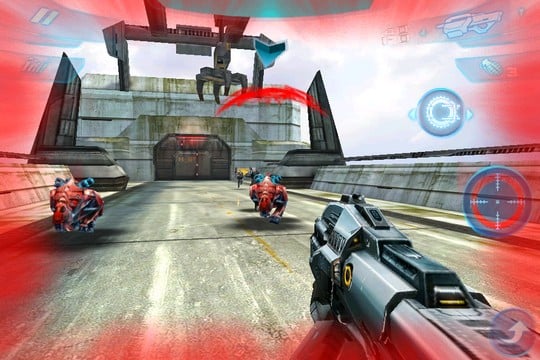 Seeing red
Halo's Master Chief may have missed Nova 2's job listing, but Earth needn't worry, his original iOS-understudy Kal Wardin returns as humanity's last line of defence in Gameloft's sequel to its hit FPS.
Kal's uncanny resemblance to Master Chief is just the tip of Gameloft's aping. Picking up where the original left off, Nova 2 re-plunders Halo's universe for inspiration, from orbital space jumps and sun-drenched tropical alien beaches, right down to enemy roll animations and the way Kal holds his rocket launcher. Environments, architecture, weapons, vehicles - wherever you look and whatever you're doing, Nova 2 constantly reminds of Bungie's epic sci-fi saga.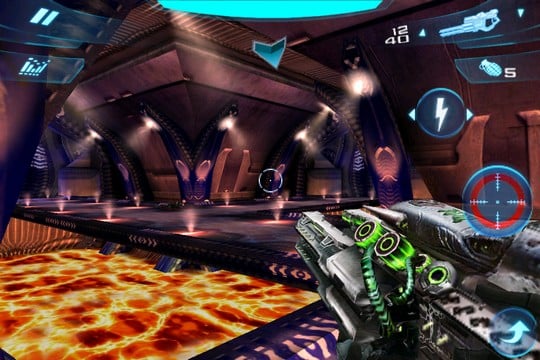 Nothing like a nice warm bath.. arrrgh!
It's testament to Gameloft's achievements, then, that blatant mimicry is easily overlooked in the face of technical mastery. Nova 2 might fall short of Rage and Infinity Blade's graphics, but it's worth remembering those games are essentially tech demos - ones which cleverly recycle assets and mechanics to elongate gameplay - whereas Gameloft spares little visual and mechanical diversity in cramming an first-person shooter experience into the iOS. And it's a technical feat Nova 2 sustains throughout an eight-hour campaign and online multiplayer modes.
COMMENTS
You're not the only one
to be reminded of Quake 2. That badly cooked lasagne lava looks very familiar.
I'd go for David Lucke's suggestion
Playing dual stick shooters using the Fling is, in a word, glorious. - TouchArcade.com
Er... it's not the twin-sticks that's the problem for FPSs - although the screen admittedly does get greasy at times - it's using twin sticks AND BUTTONS.
Paris - because I'm sure she'd help me find a way to twiddle and push the button at the same time.
You could always buy a joystick
From thinkgeek, who else:
http://www.thinkgeek.com/gadgets/cellphone/e75a/
iPod thumbsticks...
@David Lucke
Like these - http://tenonedesign.com/fling - you mean?
Quake 2
Wow, that second shot looks straight out of Quake 2. Does no one have OSHA (aka Health and Safety over there) in the future?