Aavara PCE122 HDMI extender
The long run
3D perspective
Now before you get too excited, while the Aavara box is fully HDMI 1.3 and HDCP compliant for all your 7.1 channel audio and 1080p video needs, 3D viewing is another matter. If you're thinking of delivering 3D content you'll might want to to consider finding something officially HDMI 1.4 compliant.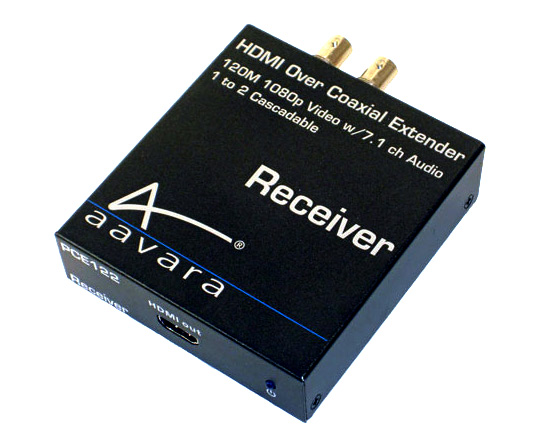 Delivering 3D content may well be a possibility, but not at full-resolution
That being said, from a technical point-of-view, any high-bandwidth HDMI 1.3 implementation should be able to support 3D up to 1080i. The official word from Keene is that – as even Sky uses a hybrid variant for HDMI 1.3 for its 3D boxes – it may be possible to relay these signals. Until compatibility testing is completed, Keene is saying that the PCE122 is not currently 3DTV capable. Blu-Ray 3D content requires HDMI 1.4 and is thus not supported at all.
Once you've determined that you'll not be stepping outside of the realms of HDMI 1.3, the remaining issues are ease of installation and configuration. All in all, it's very simple, just connect your existing coax feed, attach an HDMI cable and plug it into the wall. Oh, and don't mix up the sender and receiver units.
With each box measuring in at 92.4mm x 117.8mm x 29mm, it should not be difficult to conceal behind most wall-mounted televisions, but it would certainly be useful if the casing had been designed with wall-mounting slots.
As I was lacking a 120 metre coax run, I performed my tests using a 50 metre run with F-Type connectors. The Aavara Units are fitted with locking BNC connectors, but do include F-Type to BNC adapters. It should be noted that when using these adapters, the 1080p transmission range is limited to 90 metres.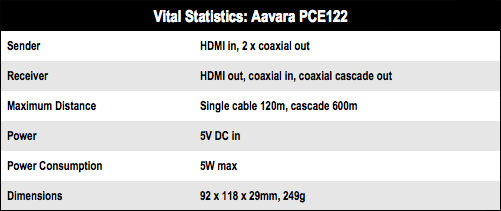 Sponsored: Minds Mastering Machines - Call for papers now open