Eye candy
The generous eyepiece of the viewfinder and the 3in LCD screen take up most of the room on the back. The only other controls here are the AF button and the on/off switch that also doubles as shutter selector. The S2 has a dual shutter system that gives you the option of a metal focal-plane shutter or a central shutter to be used in conjunction with the S lenses.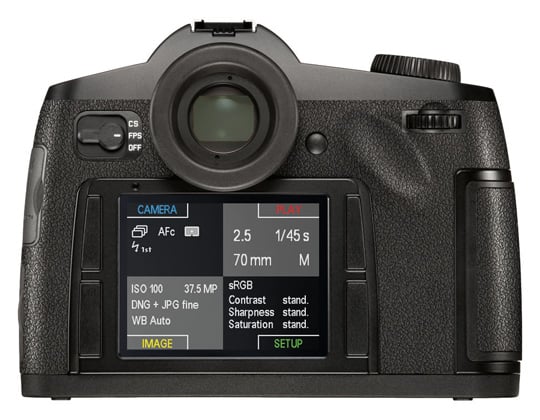 The menu options are informative but navigation takes a bit of learning
The rear screen has a resolution of 460K pixels, which is roughly half what you expect in pro DSLRs but it is accurate and the brightness can be adjusted. On the side of the screen there are four large soft buttons (they're black on black and almost invisible) that command the somewhat counter-intuitive and twisty menu layout.
The upper right button is the only one that is not fully customisable and always accesses playback. The other three bring on screen information in sections if pressed once or enter specific areas of the menu if pressed twice. You then will have to use the thumb dial to scroll through the menu and to select a menu option. All in all, a system that is everything but user-friendly to the uninitiated. Yet to be able to point and shoot with this medium format 37.5Mp behemoth, means you tend to be inclined to forgive these gripes and bend to the system.
Somewhat unique among medium format cameras, the S2 is fully sealed against dust and moisture, but does not have a built-in sensor cleaning mechanism. Leica staff assured me that sensor cleaning by the user is a very straightforward and safe operation. While medium-format backs only handle RAW files, the S2 has slots for both Compact Flash and SD cards and lets you store your files as DNG RAW on the first and JPEG on the second simultaneously. It also sports High-speed USB 2.0 connectivity and a HDMI port.
The S2's incredible image quality is due in part to the new Kodak CCD sensor. However, to increase sharpness and maximize lens performance, Leica has done away with any anti-aliasing filter in common with other medium format camera manufacturers, giving a boost in sharpness and general image quality. This does leave these cameras prone to Moiré patterns – visible in fine detail, such as fabrics – but post-processing with image editing software is an option to minimise this effect, if needed.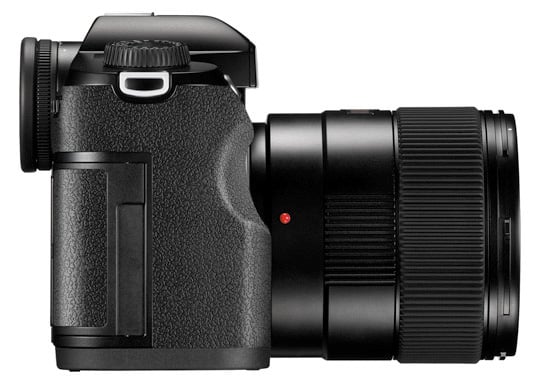 No anti-alising filtering to maintain image sharpness
The S2's super-fast dual Maestro processor delivers twice the processing power of the Nikon D3x and a responsiveness that is certainly more in line with a DSLR than a medium-format camera. Unfortunately, like all other CCD DSLRs, the S2 does not support Live View. Handling the camera in a studio session is very different from testing the camera on location and would be unwise to draw conclusions on its autofocus, exposure or white balance performance but the outstanding quality and sharpness of the images are immediately apparent.
COMMENTS
7% smaller?
Given that the smallest common medium format film frames are 6cm by 4.5cm (okay, minus a couple of mm for a slide mount), and a lot of people think of proper medium format as 6cm by 6cm to 6x17cm, I think calling 45mm x 30mm "7% smaller" is pushing it a bit. "Half medium format", maybe.
The S2's an interesting (and nice) bit of kit, but looks pretty poor value compared with a Pentax 645D or the low end 'Blad back. On the other hand, compared to the going rate for the 60 to 80 MP medium format backs (that are much closer to true 645 frame size), it's a bargain. Every now and then Calumet send me a brochure proclaiming "now you too can afford a digital medium format back". Oddly, I doubt my bank manager would agree.
Nice reviews
It's nice to see such well considered camera reviews on The Register, especially for things like this which are probably well out of most of the readership's league, if only because it adds depth to the site and makes sure that not all reviews are of the latest iGadget. Please keep them coming!
Oh my
I want this so badly. And a complete studio setup, too. Anyone interested in a low-mileage kidney?
Hang on must ask?
Does Panasonic do the exact same camera just with Lumix written on it for £1700?
I want one...
with all the lenses.
That looks amazing. Now to just rustle up a small mortgage and we're away.