NASA nano-satellite belatedly ejects from orbiting mothership
Boffins ask radio hams for help with small sun-jammer
NASA has announced that a small "nano-satellite" which was supposed to be released from a larger spacecraft in orbit on 6 December has finally separated from its mothership. The space agency is appealing for help from ham radio enthusiasts in picking up signals from the little NanoSail-D.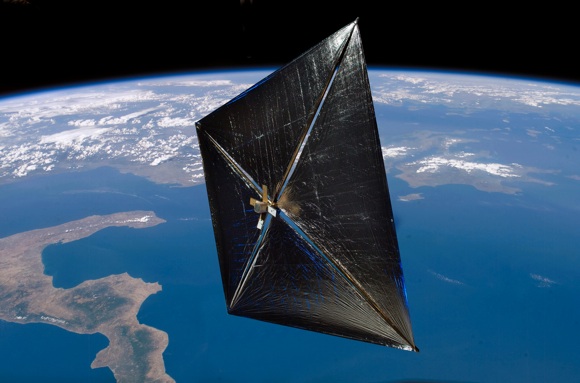 Don't rush me
"What a pleasant surprise this morning when our flight operations team confirmed that NanoSail-D is now a free flyer," commented NASA honcho Mark Boudreaux, in charge of the FASTSAT mothership spacecraft and the various experiments and nanosatellites carried by it.
NanoSail-D is a small solar-sail system, designed to unfurl into a relatively small square of thin polymer three days after separation from the FASTSAT carrier. High-velocity particles streaming through space will strike the "sail", producing a small amount of thrust.
In the case of NanoSail-D this thrust will be used to de-orbit the little craft, and cause it to re-enter the atmosphere sooner than it otherwise would have done. The idea is to prove that solar sails could be used to de-orbit larger satellites: at present this is done using conventional thrusters. That uses fuel, and so cuts into a satellite's operational life.
NASA controllers ordered the FASTSAT to deploy the NanoSail-D back on 6 December as planned. The door behind which the nanosat travelled opened, but it didn't come out. Now it appears to have ejected itself spontaneously. If the little module is working correctly, it will deploy its sail on Saturday. However, NASA engineers were initially unsure whether the tardy orbiter was functioning.
"We're anxious to hear the beacon which tells us that NanoSail-D is healthy and operating as planned," said Dean Alhorn, top boffin on NanoSail-D, in a statement. "The science team is hopeful to see that NanoSail-D is operational and will be able to unfurl its solar sail."
The space agency appealed for help from radio enthusiasts in picking up the nanosat's beacon, broadcasting on 437.270 MHz. The NanoSail-D's location can be found here for those who want to try tuning in, and NASA asks that anything detected be reported to the NanoSail-D dashboard website here. The dashboard is now reporting that beacon signals have been picked up.
NASA boffins now seem confident that the NanoSail-D mission can proceed usefully, though the belated, spontaneous deployment seems likely to affect it adversely. In December, when the space agency thought deployment had happened as planned, Alhorn said:
"We had to carefully plan and calculate the ejection time, so we'd be lined up over the United States and our ground controllers to execute the next phase of the mission."
That planning would now appear to have gone awry.
There's more from NASA on NanoSail-D here. ®
Sponsored: Minds Mastering Machines - Call for papers now open