DC Universe Online
Get cape, wear cape, fight
Comical effect
SOE has done a great job in capturing the look and feel of DC comics, even though the PS3 version is pegged back at 720p. The voice work and scripting are of high quality throughout, compelling you onwards where mechanics fail to. And levelling is as addictive as in any great RPG, although there's little opportunity to grind, as combat outside of quests yields relatively low XP.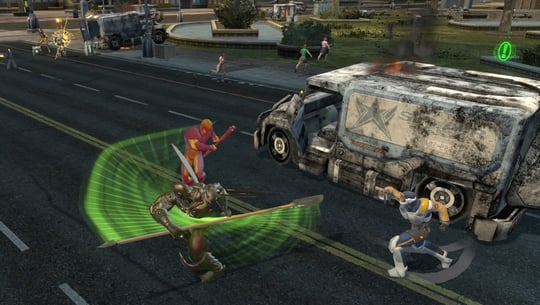 Road rage
There are also several other game modes in the current build to keep players occupied. Player versus player (PvP) can be toggled at any time to raise the challenge in the regular world. And you can take part in PvE or PvP arena combat.
PvE events follow a similar pattern to regular quests, but on a larger scale and in distinct locales, such as the desert base of Area 51. PvP events allow you to use your own character, or play as a legendary DC character, in common game modes like King of the Hill. But it's going to take a while for many PS3 players to understand the role requirements for both, and you're quite likely to be teamed up with three silent damagers, all unwilling to adopt a different role.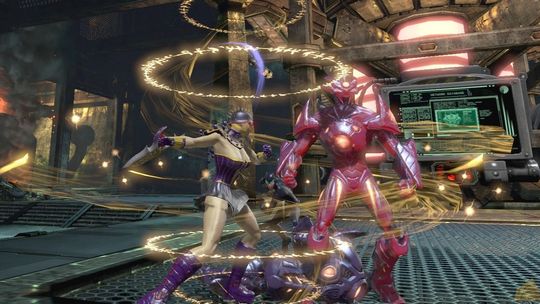 Circular beating
Verdict
For a vanilla build, DC Universe Online is an accomplished first attempt. Its idiosyncrasies work well to introduce new players into the genre and attract seasoned players seeking a fresh experience. As you'd expect with any new MMORPG, it's a little rough around the edges. Latency occasionally rears its ugly head, with character skins the most notable casualty. And the camera often confuses, especially in combat. But the real disappointment is that a game so huge and complex is undermined by a problem so prevalent and simple: that questing can often feel like a chore. ®
More Games Reviews

Mass Effect 2
For PS3
World of Warcraft:
Cataclysm
Donkey Kong
Country Returns
Doctor Who:
Return to Earth
Sponsored: Minds Mastering Machines - Call for papers now open

DC Universe Online
An ambitious online offering that almost gets it right. Available on PS3 and PC.
Price:
£40 (PS3), £30 (PC), £10 per month RRP