DC Universe Online
Get cape, wear cape, fight
Working for the legends
One further concession to novices, however, ensures DCUO is one of the easiest MMORPGs for soloing. In fact, the current level cap of 30 can be reached without so much as waving to another human player. It's a system many will baulk at as contrary to custom. But with co-operative play an ever-present choice in all quests - Team-Ups, anyone? - and some restricted to co-op only, it's an egalitarianism that broadens appeal without sacrificing the core doctrine of community.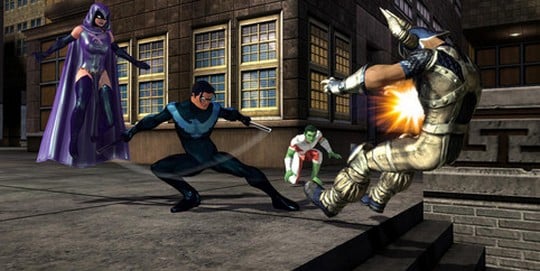 Just can't stomach it
Whether you superhero solo or gang up as supervillains, DCUO's questing remains the same. Just like comics, main quests form encapsulated stories, where successive mini-quests need completing before progressing to a final dungeon. For example, one sees you rescuing Harley Quinn from the Joker's Fun House, where Robin has restrained her in an attempt to extract information for Batman about the Joker's deadly toxin.
Beginning outside, the objective is to defeat 20 Gotham cops, with additional experience points awarded for completing optional objectives, such as looting their bodies for incriminating evidence. After achieving the main objective, it's on to the next encounter, against tougher opponents. Once you've completed a few, you'll head into the dungeon for further mini-quests and a boss-fight against a prominent DC character, in this case Robin.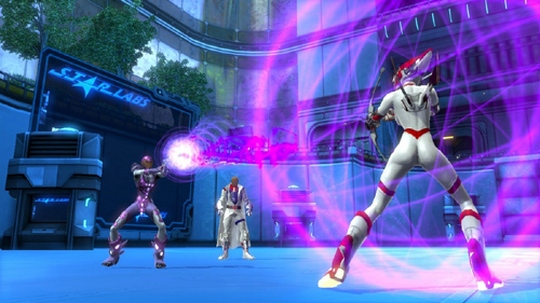 Unload in the pink ring
It's a pattern unfortunately repeated ad nauseum through the main campaign – one which fails to maintain interest despite impressive re-dressing of characters and stages. So it's left to narrative and progression to sustain the experience. And in these, at least, DCUO is a worthy MMORPG.
Sponsored: Minds Mastering Machines - Call for papers now open