EMC declares war in the channel with entry-level VNXe
VNXe is EMC channel's anti-Dell weapon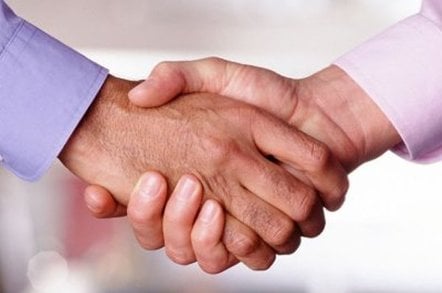 The unified CLARiiON/Celerra VNX line lived up to leaked expectations in EMC's announcement today, with the entry-level VNXe. The company has extended its channel programme to sell the new lower-cost systems to small and medium businesses – putting it head to head with offerings from Dell and NetApp.
The VNX converges the separate CLARiiON block-access and Celerra NAS (network-attached storage) headed arrays into a single system with the two environments managed by Unisphere. EMC boasts it that the new system has three-times simpler management, three-times better efficiency, and three-times more performance "than current EMC mid-range storage systems".
The VNX speeds and feeds and software packs are as previously reported, with a note from EMC that the array uses the latest Intel 5600 multi-core processors. The product has management features optimised for apps including SQL Server, SharePoint and Exchange Servers, VMware View and, interestingly, Oracle databases. It includes FAST VP, the new name for the CLARiiON FAST 2 feature which automatically places sub-LUN chunks of data on storage tiers defined by storage type, such as solid state drive (SSD) and fast and slow SAS disk drives and other settable parameters, according to the data's activity level. It also supports FAST Cache and SSD used as a cache and not a general storage tier.
Virtual pools of storage can be set up comprising different amounts of the various storage tiers' capacity and such pools allocated to applications, and run to deliver appropriate service levels. (This sounds like a Pillar Axiom capability.) FAST VP automatically places data on the right storage tier within each virtual pool.
Replication (RecoverPoint Continuous Remote Replication) is supported for both block data and files. There is block-level deduplication for data in flight across a WAN. However the data isn't stored at the target system in a deduplicated way.
EMC claims that SQL Server and Oracle OLTP run three times faster on the VNX than they would on a CLARiiON or Celerra arrays. It also says users can have 500 virtual desktops fired up in eight minutes: a rate of about one a second. The company also says VNX storage efficiency is better than the soon-to-be-superseded CLARiiON and Celerra arrays because of FAST VP, file-level single-instancing and compression. In other words, you should need fewer disk drives to store and serve the same amount of data.
VNXe: War against Dell
The VNXe – the e is for entry – is a remarkable box because it represents much more unified storage than its big brother VNX as it has a unified operating system – VNOX – running on a dual-core Intel processor in just 4GB of RAM. Plus there is a special extension of EMC's Velocity Partner channel programme to push it out to small and medium businesses. Is EMC taking on Dell here?
It is an easy-to use box with Unisphere wizard-based set-up; application-optimised management, and lots of what EMC calls single-click help and support – meaning one-click access to automated diagnosis, service and access to a self-help user community. The target customer is a non-specialised IT buyer and EMC says that person could "configure storage for 500 Exchange mailboxes or 1TB of VMware data stores ... in less than two minutes." Provisioning for Exchange and Hyper-V is wizard-driven.
There is built-in support for CIFS, NFS and iSCSI access to storage. Like the VNX, it has file single-instancing and compression and also thin-provisioning. It supports 6Gbit/s SAS and nearline SAS drives and also SAS SSDs. There can be up to 120 drives and up to 240TB of raw capacity. The VNXe has a no-single-point-of-failure design for reliability. The system is built from tool-free customer-replaceable modules.
We anticipate that VNXe features will move across into other EMC storage platforms over time, such as the VNX.
It is very easy to become a VNXe channel partner, requiring only a three-hour free training course to become an affiliate in the Velocity partner programme's new Authorised Reseller category, although there are revenue requirements. Existing channel partners can gain VNXe selling expertise the same way. EMC says there will be "dedicated EMC demand generation, marketing support and advertising to drive awareness of the VNXe series for partners".
The Reg sees this programme and reckons it is EMC's riposte aimed at Dell's move away from EMC and its purchase of Compellent. This is war in the channel.
The VNXe starts from less than $10,000 and has cheaper list pricing than Dell, HP, IBM and NetApp, but is a little more expensive than Iomega's rackmount storage. ®
Sponsored: Minds Mastering Machines - Call for papers now open