EMC VMAX gets software brain transplant
FAST 2 finally arrives, doubles performance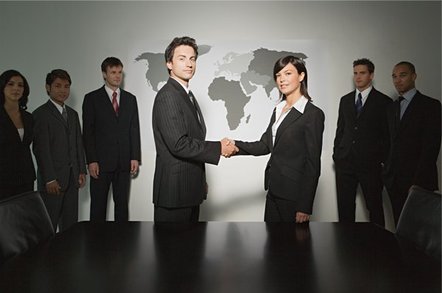 EMC has given its high-end VMAX array a software upgrade that doubles performance, enabling five million virtual machines to be supported.
It's claimed to support twice as many OLTP transactions and DSS (Decision Support System) queries as the previous version. The finding of such efficiencies in software alone is impressive.
The Symmetrix VMAX (Virtual Matrix) is EMC's high-end, block-access array, with from one to eight storage engines, supporting up to 2PB of capacity from 48 to 2,400 drives. These can be a mix of solid state drives, Fibre Channel and SATA hard disk drives or tiers.
The VMAX O/S is called Symmetrix Enginuity. It has a new version of the automated tiering software called FAST VP (Fully Automated Storage Tiering with Virtual Pools) which moves data between storage tiers on the array based on its activity level.
EMC provides no details of how it works better, but asserts it "delivers up to 40 per cent more application performance at a 40 per cent lower cost while requiring 87 per cent fewer disks and 75 per cent less power" than single tier systems.
Storage tiers can be optimised based on performance, storage costs, energy use, capacity, the number and type of drives. FAST VP was in beta test when VMAX with FAST was announced last year. With it you can, EMC says, "allocate space from the virtual pools in increments" and so move only the right data at the right time. We reckon this is sub-LUN tiering which 3PAR, Dell/Compellent and IBM already have.
In effect EMC has finally completed the phased delivery of FAST tiering which was first revealed in September 2009. CLARiiON and Celerra arrays got their sub-LUN tiering, known as FAST 2, last year.
MAX now has support for VMware APIs that provides eight times faster management and provisioning, and three times faster replication and mobility.
The new O/S version also has a Federated Live Migration facility to enable, EMC says, technology refreshes that don't need any application downtimes and significantly reduce the planning, time and resources needed for migration.
EMC has added fresh RSA Data Protection Manager hardware-based encryption functionality and key management to secure data at drive level, claiming VMAX is now the industry's only totally secure multi-tenancy storage infrastructure; a bold claim.
VMAX now supports 10GbitE natively, alongside the existing 1GbitE, Fibre Channel and FICON host connectivity.
The VMAX announcements make VMAX an ideal array for cloud storage virtualised data centres according to EMC. They will certainly make VMAX more attractive compared to its Hitachi Data Systems VSP and IBM DS8000 competition.
The announcements come as part of a set including converged mid-range CLARiiON and Celerra arrays called VNX, and new and faster Data Domain deduplicating backup arrays. ®
Sponsored: Minds Mastering Machines - Call for papers now open