PlayStation Phone spied in China
Gadget bought, photo'd ahead of launch
Sony Ericsson's upcoming Xperia Play handset - aka the PlayStation Phone - has turned up for sale in China.
Taiwanese website ePrice says it was tipped off to the fact by a reader on the mainland, and promptly sent one of its Shenzhen-based correspondents to go and have a look.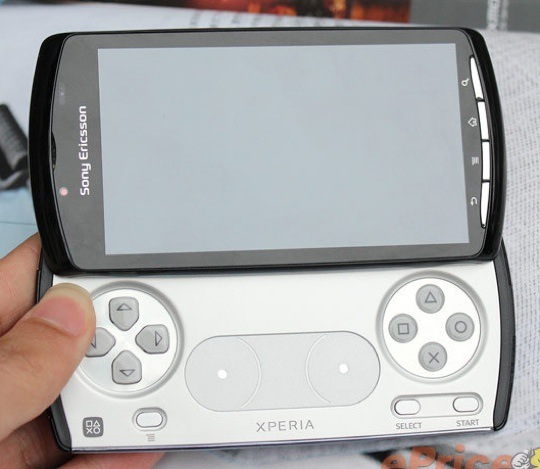 Source: ePrice
The result: a wealth of hi-res snaps of the gadget - model number R800i - that would seem to be shots of a genuine device. Here are three - ePrice has a lot more.
The Xperia-branded handset has all the key PSP controls, which slide out like they do on the PSP Go. The layout isn't identical, suggesting this isn't a fake made by grafting bits of the handheld console onto a Sony Ericsson phone. The 'joysticks' are made from touchpads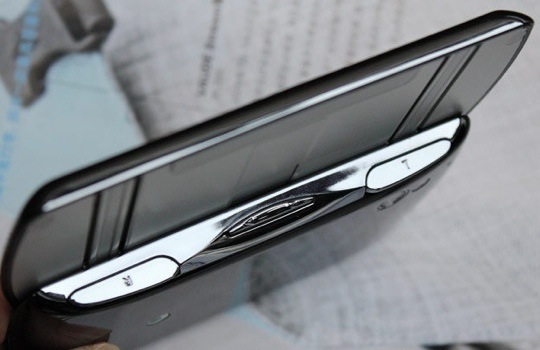 Source: ePrice
The site says the Xperia has a 4in multi-touch touchscreen and a 1GHz CPU and runs Android 2.3. The key application is PlayStation Pocket, but with no service in place and no content to download, the app doesn't do anything now, ePrice claimed.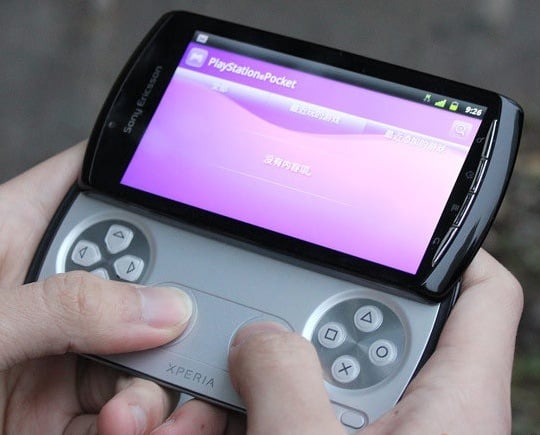 Source: ePrice
The hardware seems essentially ready to go, suggesting to us that a Mobile World Congress launch next month is on the cards. ®
COMMENTS
In theory
In theory a PSP phone peripheral could be a docking station which has a UMD. Dock your phone into charge and sync a game or two at the same time. The synced game would allow you to play it a few days or some period of hours before requiring revalidation.
It beggars belief that Sony didn't do it for the PSP Go. They have 60 million PSP owners (or whatever) and none of them could bring their collection to the new PSP. How stupid is that? Sony could probably have sold a dock for $75-100 extra and the Go would sold like hotcakes.
Without a migration path there is no loyalty from legacy owners. They may as well go buy a 3DS for all the difference it makes to their existing investment of games.
damn yo and your need for titles!
from the sounds of the "playstation portable app" its just an app! So will the app be available in the android market, and any tom dick or harry can have a psp phone? and the official playstation app currantly on the market place is a tester for whats to come? id love remote play on my phone.
but tbh im more intrested in the psp2.
How about....
I sort of agree with the sentiment that the PSP Go pisses off the SPS users who have a healthy back catalogue of games (and movies) on UMD. I've got a PSP and a rack load of UMDs and I can't see why I'd go for a PSP Go and dump my 'normal' PSP.
But, what if I could use my PS3 as a portal? Plug the old PSP into the PS3 (via USB, natch) and blip the UMD data across to create 'PSP Go' files for my 'Go, attached on another USB. I'm sure the boffins at Sony could rig something to ensure that I don't install a UMD more than once onto a 'Go using this method (they did it with MiniDisc, after all). Not only do I get a back up of my media, I also get to play it on a 'Go (or a new Sony Mobile!!!).
I suspect..
They couldn't work out a DRM mechanism to do it without getting ripped off - what was to stop you letting anyone rip your UMD to their own PSP? The discs weren't unique, so there was no way to say "already ripped".
I, on the other hand, did a jailbreak as soon as possible and ripped all my UMDs so I could play it on memory stick - all UMDs then went in the loft. Did exactly the same with the PS2 onto an external HD. Loading times plummeted to practically nothing and was suddenly able to cart my PSP on a plane without selecting which games to carry.
Re: Encryption re-work?
it only supports digital downloads, they could resign those downloads for this phone.
(note, the phone division and the PSP (PS) divisions are 2 _separate_ companies, they could each have their own digital store)