US Eye-o-Sauron border scan tower project finally axed
But huddled masses still unwelcome
The USA's troubled SBInet border security programme appears to have finally been given a mercy bullet, according to reports. The long-delayed, overbudget effort was meant to ensure that nothing and nobody could move along the southern US border without detection, using a line of netted-up sensor towers to achieve this.
The Wall Street Journal reports that Homeland Security chief Janet Napolitano has now officially announced that SBInet will be replaced by a new programme.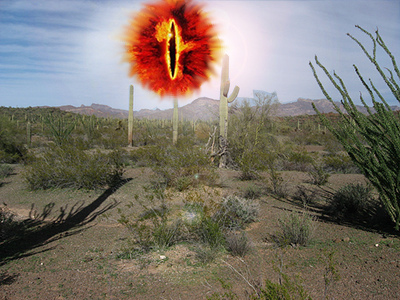 Huddled masses yearning to breathe free to be plotted
and tracked, but not with SBInet...
"SBInet cannot meet its original objective of providing a single, integrated border-security technology solution," the paper quotes her as saying.
Thus far, more than $1bn has been spent on SBInet. An initial 53-mile section of the Arizona border is now, apparently, effectively covered: but it has taken a long time to achieve this, and Napolitano estimates that the plans which will supersede SBInet will cover the remaining 323 miles of the state's southern boundary for a much more efficient $750m.
SBInet works by using sensitive moving-target-indicator radar of the sort favoured in military reconnaissance aircraft, mounted atop tall towers to get line-of-sight coverage of large areas. Moving objects are detected by the radar, and then telescopic thermal-imaging cameras swing round to zoom in on the radar blips and provide images to operators at control stations. This permits stray cattle, tumbleweeds etc to be ignored, and troublesome huddled masses yearning to breathe free to be plotted and tracked on a networked map.
The networked map can then be accessed by border patrol agents from their vehicles, allowing them to intercept their targets more easily.
According to the WSJ, the existing towers are now working well, and the Department of Homeland Security intends to retain them. Nonetheless, SBInet as such is now dead.
The debate in US politics is not so much over whether the southern border should be more heavily secured: it's more an argument between those who merely want to beef up the defences significantly and those who want to see a totally impenetrable barrier regardless of cost.
SBInet was actually quite popular among the more moderate wing of this debate, as it was an alternative to hundreds of miles of heavy physical barriers, watchtowers, barbed wire etc along the lines of the old iron-curtain border between East and West Germany. Now that it is working, the SBInet "virtual fence" is also reportedly popular with border-patrol agents on the ground. Both the outgoing Bush administration and the new Obama government were formally committed to it.
Nonetheless the project's many technical problems, delays and ballooning cost have now apparently killed it at last. There will still be a heavily technological focus in the plans which replace it, however, with Napolitano telling the WSJ that the successors to SBInet will include "mobile surveillance systems, unmanned aircraft and thermal-imaging devices". ®
Sponsored: Minds Mastering Machines - Call for papers now open