Online sync'n'store services
Your files on the cloud to access from... anywhere
Sky high
Alternatively, if you want the maximum amount of storage for the smallest amount of cash then Microsoft's SkyDrive is hard to beat. SkyDrive's 25GB of free storage is the largest I've seen offered – although you do have to access it through a web site that is festooned with deeply tacky advertising.
Like Dropbox, SkyDrive allows you to create public folders for sharing photos and other files with your friends. However, the key feature of SkyDrive is that it's part of Microsoft's wider suite of Windows Live online services, and is designed to tempt you in so that you become dependent on other Microsoft services, such as the online 'web app' versions of Word and Excel.
Review: MozyHome

Mozy provides unlimited online back-up for a flat rate fee – although, annoyingly, the $55 (£30) price listed on the company's US website is translated straight into £55 on its UK site.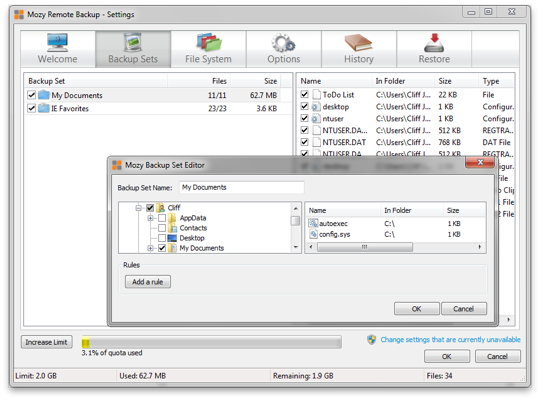 Mozy is perhaps the most limited of the online storage services I've looked at here. It focuses on very simple back-up tasks, allowing you to automatically back-up files from two computers using the Mozy software - which runs on both Macs and Windows - and to restore those files back onto each machine when required.
But the software feels a little cumbersome, and I found myself having to wade through tedious FAQs before I could figure out how to create my first "backup set". There are few additional features, such as file synchronisation, nor even any apps for smartphones or other mobile devices, suggesting that the developers haven't really noticed the whole mobile computing business that's been going on lately.
Reg Rating 60%
Free Storage 2GB
Extra Storage Unlimited for £5 per month/£55 per year
More info Mozy
Sponsored: Minds Mastering Machines - Call for papers now open