Online sync'n'store services
Your files on the cloud to access from... anywhere
Off site but out of sight
Services like Mozy and Carbonite provide you with software that works very much like a conventional back-up program – except, of course, that your files are backed up to an internet server rather than an external hard drive or memory stick that is physically plugged into your computer. And, like an ordinary back-up program, that software will also allow you to download and retrieve your files whenever you need them.
But, as I've already mentioned, the primary focus is on backing up files from your main work computer, and that approach can be quite limiting given that many of us now work on multiple computers and mobile devices in different locations. Back-up centric offerings generally allow you to view or download your stored files using a web browser, but that's no real substitute for desktop file-system access if you're transferring a large number of documents.
Review: Carbonite

Carbonite doesn't offer any free online storage at all – other than a 15-day trial account – but it's good value if you need more than the limited free storage that is available from its rivals. For a flat annual rate of $55 (£35) - less if you buy more than one year's usage at a time - you get "unlimited online back-up", although the FAQs on the Carbonite web site do warn you that back-up speeds slow dramatically after the first 200GB.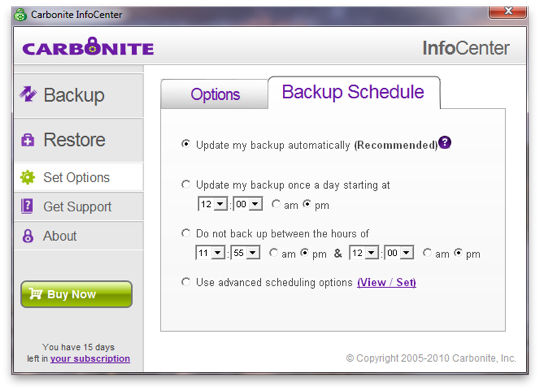 The Carbonite software can be set to perform constant, incremental back-ups, or to perform scheduled back-ups at specific times. The software runs on both Macs and PCs, and there are Carbonite apps that allow you to access and view your stored files on BlackBerry, iOS and Android devices. However, your Carbonite account only allows you to back-up files from a single computer.
Reg Rating 70%
Free Storage None
Extra Storage Unlimited for $55 (£35) per annum
More Info Carbonite
Sponsored: Minds Mastering Machines - Call for papers now open