Online sync'n'store services
Your files on the cloud to access from... anywhere
Back-up basics
The most basic services are those, such as Mozy and Carbonite, that specifically focus on backing up files from your main machine. Such services typically offer 'unlimited' online back-up for your files for a flat subscription fee, so you could theoretically back-up the entire contents of your computer's hard disk, including the entire operating system.
In practice, though, you'd be unlikely to back-up more than a couple of hundred gigabytes using current broadband speeds - if you do, Carbonite warns you that your initial back-up "may take several days" to upload, for example. Even so, that would still allow many users to store all their crucial files for barely a fiver a month, which is good going for reliable and theft-proof off-site storage.
Review: Amazon S3

The 5GB "free usage tier" that Amazon offers to users of S3 – short for "simple storage service" – might seem to put it alongside the free offerings from the likes of Mozy, Dropbox and SkyDrive. However, S3 is a different kettle of fish altogether, and is very much aimed at big business users who need many terabytes of secure, online storage.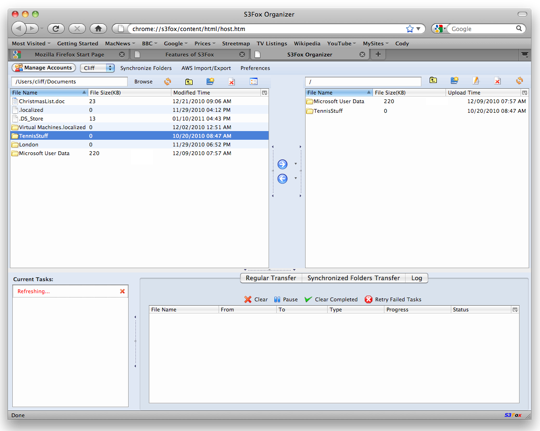 It's not bad value for money, with prices starting at around 9p per gigabyte, but the rather complex pricing scheme means that you also have to take into account the total amount of data traffic that passes through your online 'bucket' each month.
Even more complex is the system of credentials that are required before you can upload even a single file. That level of security will please Amazon's corporate customers, but it left me in a state of utter bewilderment. In the end I was only able to use S3 with the help of a Firefox add-on called S3Fox Organiser, which provides a more user-friendly front-end for the service.
Reg Rating 50%
Free Storage 5GB
Extra Storage Variable
More info S3
Sponsored: Minds Mastering Machines - Call for papers now open