Arcam Solo Neo combo hi-fi
Audiophile hub gets Internet upgrade
Review British hi-fi stalwart Arcam's original Neo first appeared back in 2004 and quickly earned a place for itself as an audiophile approved, quality combi system. Various incarnations followed (Solo Movie, Solo Mini) and now the Solo Neo updates the concept by adding Internet radio and network streaming music to its audio arsenal of 75W RMS amp, preamp, CD spinner and DAB+/FM radio tuner.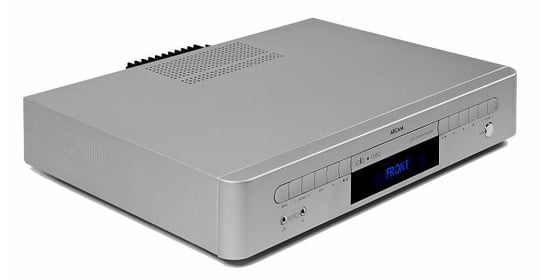 Heavyweight hi-fi: Arcam's Solo Neo
The Neo, like its predecessors, is designed to fit in easily, whether it's in a rack with other separates or as a standalone hi-fi system. Its heavy aluminium chassis and densely packed components mean it weighs in at a hefty 7.75kg – portable it ain't.
Arcam has stuck with the minimalist Solo design aesthetic with its silver-only livery punctuated by delicately recessed buttons on the front, above an ice blue LCD screen and a brace of 3.5mm jack sockets for headphones and MP3 players.
The CD player includes a low jitter Colpitts crystal clock, a 24-bit Wolfson DAC and is capable of handling CD-R and CD-RW discs. The Solo Neo will play WAV, MP3, AAC, WMA and lossless FLAC files either from disc or a hard drive, which covers the basics and a bit more.
There's a USB input which might have been better placed at the front for connecting flash or hard drives, but it's ensconced at the back where it joins four analogue source inputs and three outputs. Among these are connections for tape, a second zone and an additional power amp.

Comprehensive interfacing, but alas no phono option
Other back panel interfacing includes an optical digital out and an Ethernet port for connecting to the Internet or a home network. There's no phono input, however, so if you want to connect a turntable, you'll need to source a separate preamp to hook up to one of the line inputs.
COMMENTS
Oh good grief.
"I found that the same tracks sounded considerably better when played back from an iPhone connected to the irDock"
So the Wolfson DAC and common-or-garden crystal used in most iphones/pods/pads sounds better than the Wolfson DAC and low-jitter crystal in this bit of kit? Does that mean these audiophile components are a load of pony or your hearing is shot?
Or perhaps it simply means that you should use actual test kit to review audio equipment rather than a fallible old pair of human ears. Hey! Maybe then you could then give some actual information on performance rather than such trite and meaningless adjectives as "detailed", "transparent" and "clinical".
Fucking "clinical". For the love of fuck.
No Knobs?
"there are only limited tweaking options on board, with an on-screen slider each for bass and treble and a bass correction setting that beefs up the low end for smaller speakers "
With decent kit there shouldn't be much of a need to tweak, maybe just the once but then leave the bloody thing alone. Most audio stuff could do with a 'loudness'* switch as it's rarely turned up to drive things properly but that's it.
Want one.
*a loudness switch? burn the heretic!
Naim UnitiQute ALAC playback clarification.
Just to clarify my earlier post. The UnitiQute can't natively stream, dig out, pull etc. ALAC. This is reserved for FLAC files. Naim like many of its competitors are not very keen on proprietary formats.
What I do is stream ALACs from iTunes to an Apple TV 2 connected to a digital input or from a Mac Mini directly connected via a digital input. This was you get the benefit of using the Apple Remote app and ALACs. One bonus with the Apple TV 2 method is that it buffers the audio to it's internal flash storage which makes for smoother less noisy playback.
"Audiophile" equipment with no phono input?
See icon...
UnitiQute...
....i wasn't aware it supported ALAC just yet, it keeps being promised but that delight is presently only reserved for the HDX range. FLAC etc no problem, but ALAC streamed from a NAS is a no go!
As for the Arcam, the absolute best speakers i've found to suit it are the Focal/JM-Lab Chorus 700 series - the 705v a sensible choice.