Performance tests
The NX90Jq review unit came loaded with 64-bit Windows 7 Ultimate. It runs on a 1.73GHz Intel Core i7-720QM CPU and is a strong contender in its PCMark test class. Compared to other i7 models tested, only the 17in MacBook Pro had a better overall score, while in other tests it was an outright winner, Indeed, apart from my trouble with the trackpads, I found the NX90Jq to be a very snappy mover.
Benchmark Tests
PCMark Vantage Results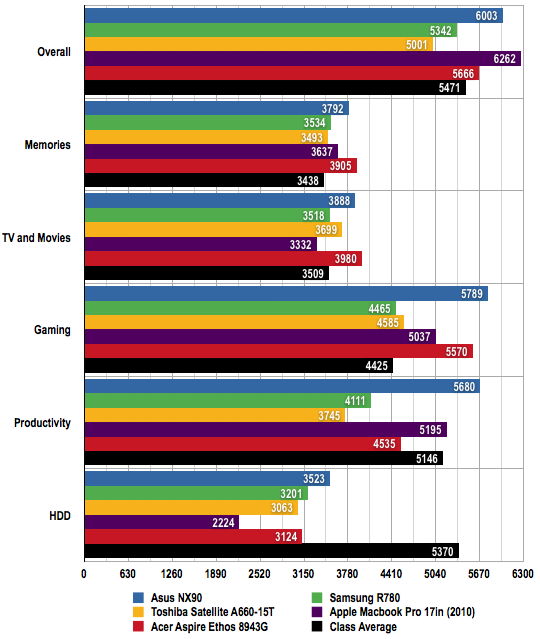 Longer bars are better
Battery Life Results

Battery life in minutes
Longer bars are better
Graphics are driven by a Nvidia GeForce GT 335M GPU, a mid-range CUDA-capable card that copes well with most games and HD video with ease. Battery life isn't great though. In tests, a full battery yielded only 75minutes. The Asus Power4Gear utility is in place for more economical use of the power, but running the NX90Jq in Entertainment mode provided only an extra 15minutes of battery life.
COMMENTS
Ugly
Fair enough, this not really a laptop in the convention sense, but it's still ugly. B&O styling? Just looks like they fitted a too-big screen too it, and those sticky-outy speakers contrast completely with the style of the keyboard and base unit.
Each to their own though. If you like it, knock yourself out and go for it.
Meh
Media consumption rather than documents.
only 1080 line.
My nearly 9 year old laptop has more useful 15.4" 1600x1200 screen.
Does NO-ONE make a Desk-top PC replacement any more?
If I want to watch films or TVs, then I'll use an HDTV.
What about a laptop with 1600 x 1200 screen that rotates to portrait mode.
Or 1920 x 1440 screen that doesn't rotate. Space to have 1920 x1080 HDTV and epg/subtitles/ widgets under it.
16:9 is OK for a TV. It's a stupid aspect ratio for a laptop.
Benchmarks
I know benchmarking can be a slippery bugger to understand, but can someone explain how the Asus outscored the Macbook in every category (including "memories") but lagged behind on the "overall" rating?
Shurley shome mishtake, no?
@ Dapprman
Congratulations - you've managed to both repeat and remember something that Jeremy Clarkson said. Not a lot of his fans can lay claim to that.
If you honestly believe that B&O kit sounds anything like Philips stuff you are either deaf, or have never bothered to actually try B&O kit and are simply regurgitating something you heard down the pub.
Philips is indeed one of B&O's suppliers, along with quite a few others. It is what they do with these components that counts.
B&O may be overpriced compared to other true hifi companies - but people will clearly pay a bit extra for something that 'looks stunning'.
And regardless of how much it costs or how it looks, its sound is definitely hifi, in the true sense of the word.
"After all would you spend so much on a Mclaren F1 if it was branded BMW ? which is where most of their internal engine components actually come from. "
Surely you don't mean those bits that Mclaren added to BMW's internals actually made a difference?
B&O is to HiFi...
...as Amstrad is to server farms.