Asus NX90Jq 18.4in Core i7 laptop
Notebook audio gets the B&O treatment
Review I first encountered Bang & Olufsen in my teens. A friend's father had a Beocenter music system, which we fledgling audiophiles were, of course, both in awe of and barred from touching. The sleek lines, matt black controls and aluminium panels of that and other early B&O systems instantly sprang to mind when glancing upon the Asus NX90Jq notebook for the first time.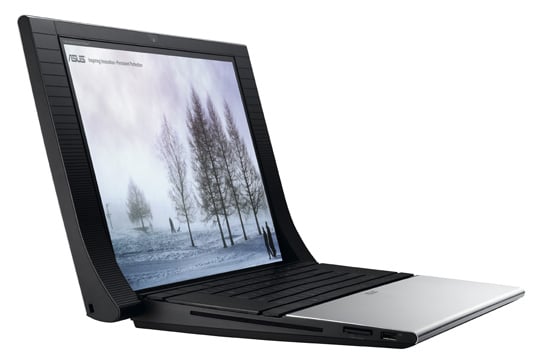 Asus is hoping to set the benchmark for laptop audio with the NX90Jq
The case is mirrored aluminium, solid and very striking. The 18.4in LED backlit screen is a glossy and deep black. Enclosing this like monolithic bookends are twin speakers with towering resonance chambers. The keys are chunky and though plastic, are of a high quality matt black, which again echoes the classic B&O design. Even the box it comes in has more than a passing resemblance to a guitar hard case. If you want luxury on a laptop, this is it.
However such opulence has its costs, and I don't just mean the £2,500 price tag. This is a very heavy machine. It doesn't seem like the sort of hardware that would suit a 'road-warrior' type of user. There's a note about using it on planes in the all-too-brief user guide, but I'd say this was impractical if not undesirable given the size and weight of this machine. Or maybe it's because I don't generally travel in the intended class for users of the NX90Jq.
It's also fairly unwieldy. Lifting the lid or pushing the screen back to get a better view tips the whole thing backwards, so you either need to hold the base before doing this or leave the notebook open. Given these points, it's plain that the NX90Jq is better suited for a more static role in the home or (executive) office, as a desktop replacement. Indeed, it is in this environment that the underlying strengths to match those good looks are revealed.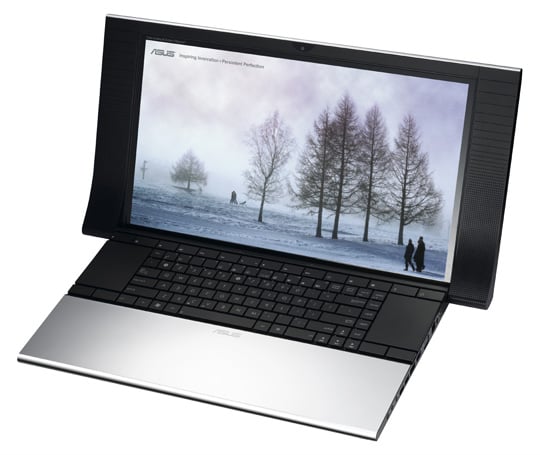 A desktop replacement, and then some
Given the B&O involvement, the NX90Jq does actually sound fantastic. The ethereal tones that launch Halo came booming from the twin speakers and scared the willies out of my cats. Dolby 5.1 DVDs of Sigur Ros and Led Zep played on the unit's Blu-ray drive were reproduced as clear as a bell. No distortion occurred even at the louder end of the scale – it's definitely the best sound reproduction from a laptop that I've encountered.
COMMENTS
Ugly
Fair enough, this not really a laptop in the convention sense, but it's still ugly. B&O styling? Just looks like they fitted a too-big screen too it, and those sticky-outy speakers contrast completely with the style of the keyboard and base unit.
Each to their own though. If you like it, knock yourself out and go for it.
Meh
Media consumption rather than documents.
only 1080 line.
My nearly 9 year old laptop has more useful 15.4" 1600x1200 screen.
Does NO-ONE make a Desk-top PC replacement any more?
If I want to watch films or TVs, then I'll use an HDTV.
What about a laptop with 1600 x 1200 screen that rotates to portrait mode.
Or 1920 x 1440 screen that doesn't rotate. Space to have 1920 x1080 HDTV and epg/subtitles/ widgets under it.
16:9 is OK for a TV. It's a stupid aspect ratio for a laptop.
Benchmarks
I know benchmarking can be a slippery bugger to understand, but can someone explain how the Asus outscored the Macbook in every category (including "memories") but lagged behind on the "overall" rating?
Shurley shome mishtake, no?
@ Dapprman
Congratulations - you've managed to both repeat and remember something that Jeremy Clarkson said. Not a lot of his fans can lay claim to that.
If you honestly believe that B&O kit sounds anything like Philips stuff you are either deaf, or have never bothered to actually try B&O kit and are simply regurgitating something you heard down the pub.
Philips is indeed one of B&O's suppliers, along with quite a few others. It is what they do with these components that counts.
B&O may be overpriced compared to other true hifi companies - but people will clearly pay a bit extra for something that 'looks stunning'.
And regardless of how much it costs or how it looks, its sound is definitely hifi, in the true sense of the word.
"After all would you spend so much on a Mclaren F1 if it was branded BMW ? which is where most of their internal engine components actually come from. "
Surely you don't mean those bits that Mclaren added to BMW's internals actually made a difference?
B&O is to HiFi...
...as Amstrad is to server farms.