Altec Lansing Octiv 450 iPad speaker
Does the twist
Remote access
I did have some problems with the remote control, though. As well as the standard playback and volume controls, the remote has four 'menu' buttons that should allow you to navigate through the iPad's music menus and playlists.

I was puzzled to find that I was only able to scroll up and down through songs within a playlist, and had to select the actual playlists myself by walking over to the iPad and tapping on the iPad screen. Altec Lansing blamed this on Apple, and told me that the dock connector on the iPad is wired differently to that of the iPhone or iPod.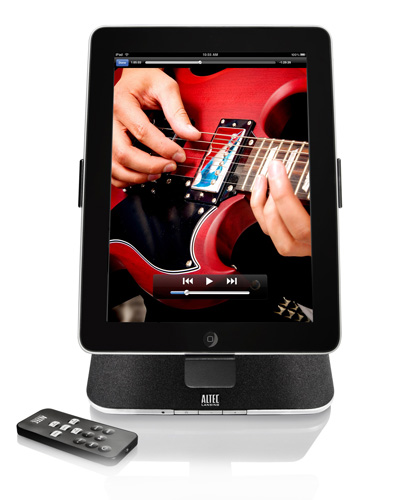 Good sonically, but let down by the remote control functionality
A quick check with my iPhone and an iPod Touch did confirm that the remote control worked properly with those devices, but that doesn't alter the fact that you've been given a semi-functional remote control that seems to have been designed for the iPhone/iPod rather than the iPad.
Verdict
The remote control needs a bit of a rethink, but the Octiv's compact design and attractive sound quality do make it a good companion for the iPad. The ability to rotate the iPad so that you can watch widescreen video is a nice touch too, and could give it an edge over rival speaker systems that lack this option. ®
More iPod Speakers...

iLuv
iMM747
Ten Essential...
bedside
iPod docks
Philips
Fidelio DS8550
Ten Essential...
premium
iPod Speakers

Altec Lansing Octiv 450 iPad speaker
Quality audio player with handy rotating-arm feature.