Motion Computing outs Windows slate
'Oak Trail' inside
Some say Intel's 'Oak Trail' platform - foundation for an upcoming Atom-based system-on-a-chip - isn't proving too popular with tablet makers, but Motion Computing, for one, will be using it.
Its Motion CL900 slate will run Windows 7 on the Intel SoC.
The chip giant announced Oak Trail in 2010, promising the platform's early 2011 release would see it appear in "sleek tablet and netbook designs" where it will consume up to 50 per cent less power than past Atoms and enable "full HD" video playback.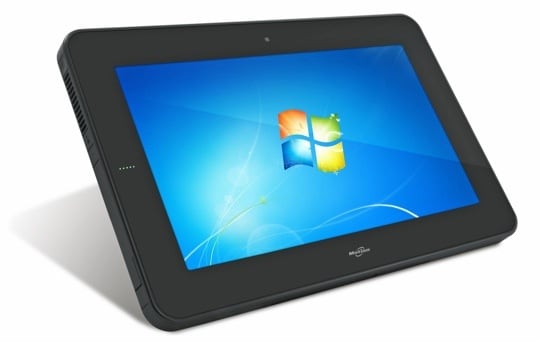 Oak Trail is up against Nvidia's Tegra 2 and other high-performance, very low power ARM-based SoCs.
Motion Computing claimed the CL900 will run for up to eight hours, suggesting Intel has successfully brought Oak Trail's power consumption down. Or does the tablet simply have a humungous battery? Unlikely: it's less than 16mm thick and weighs under a kilo.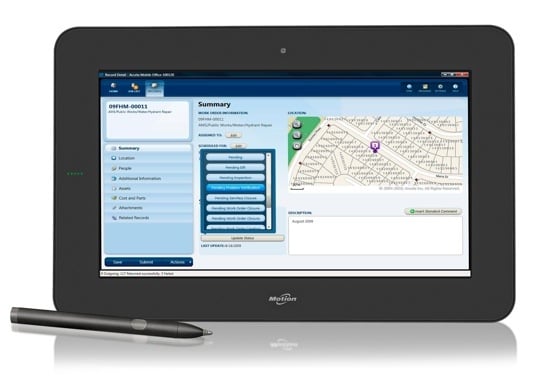 It also has a Gorilla Glass face, 2.4/5GHz 802.11n Wi-Fi, Bluetooth 3.0, optional HSDPA 3G and GPS, 2GB of memory and a choice of 30GB or 62GB SSD.
Prices will start at £825, Motion said. ®
COMMENTS
Re: WOW
No, just the Windows tax on the front and the Intel tax on the inside.......
It's a different tool
Motion make high quality, and expensive, often semi-rugged slates. They're expensive because they probably don't make that many - and can't run a supply chain like Apple. But if a full-fat PC is what you want, that's relatively light, and you can hold in one hand, and operate in the other, they're pretty damned good. Especially as loads of the other manufacturers gave up on the slate format 4 or 5 years ago, and only build the convertible tablet things, with the built in keyboard.
Last time I looked at their site, their cheapest tablet was about £1,200 - this is a considerable cut. Remember that the 64GB iPad is already £600, and doesn't do pen input or USB, and is very locked down, this isn't a bad a margin in price, for the extra features. If you need them.
Personally I didn't, so got an iPad. But I liked Motion's kit.
RE: Prices will start at £825
April Fools...
Bezels are your friends
Minimal bezels may look better but wide ones work better. Having ample room to place your thumbs and to hold the thing instead of having to grip it at the edges is much more comfortable.
Apart from that I don't see a bright future for this thing.
Check the bezel on that one
It seems all the other tablets announced recently have been competing to eliminate the screen bezel as much as possible.
This thing is more bezel than that Elonex One from donkeys ago. Very retro.