Sony to spill PSP 2 beans this month
Handheld making headway
Information about the Sony PSP 2 will be made public soon, with an official announcement round the corner.
Industry moles have divulged the news to gaming trade title MCV that all will be revealed at an event in Tokyo on 27 January.
Major developers are already working on titles for the device after publishers were informed of Sony's plans last year, the paper reports.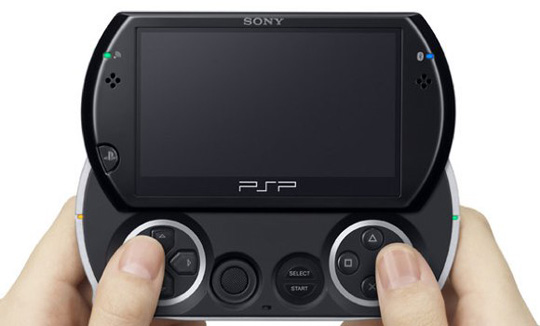 Sony's PSP Go
Mobile tech has evolved so much since the PSP was launched six years ago, that a Sony Ericsson PSP Phone is expected to be on display at Mobile World Congress 2011 in February. A sign of just how overdue a next-generation version of Sony's handheld device is perhaps?
The PSP 2 will go head-to-head with Nintendo's 3DS, set for launch next month in Japan. Can Sony outshine Nintendo in the handheld market? What are your views? ®
COMMENTS
Personally,
I would like a PSP 2 with two nubs, an L2 & R2, and enough grunt to play PS2 games, perhaps backed up by a store selling PSP 2 ports/versions of said games.
The REAL problem with the PSP
<quote>It is however a seriously good hand-held, not only in that it can mop the floor with the DS specs wise, but it also has a web browser, will let you watch movies and play music you drop on the memory stick, stream video from your PSP, listen to internet radio, work as a skype phone etc.</quote>
It's telling that you didn't (or couldn't) include 'games' in that list of yours. The *real* problem with the PSP it was virtually devoid of any quality games. As $ony (and their customers) found out 'DS beating specs' != a better portable gaming experience...
Waiting for PS2 games on PS3?
You might be, I'm not. It's somewhat akin to buying a bluray player and wanting to play VHS on it.
What he said
....although we're still waiting for PS2 emulation to be switched back on on't PS3....
PSP Browser is pants - but iPhone virtual sticks are too
Dont listen to anyone who says the PSP has a browser.
It's so poor that it might as well not have one at all.
They even added Flash but stupidly only supported a very old version of it - which doesnt do video.
The iPhone browser is far far better.
Having said that, iPhone games suffer because virtual joysticks are useless.
iPhone games which use them are really hard to control.
There is a gap in the market for a decent GAMES machine.