Coming soon: the girl with liquid eyes
I am a long-lasting lightweight liquid lenses camera
Liquid lenses with the potential to "enable a new generation of mobile phone cameras, medical imaging equipment ... and possibly even implantable eye lenses" are on their way.
So say researchers at the Rensselaer Polytechnic Institute in the US, who are working with 'liquid pistons' which double up as liquid lenses.
The pistons vibrate at high speed and move in and out of focus as they alter shape in response to changes in magnetic fields.
The focal length automatically adjusts as the droplets move back and forth.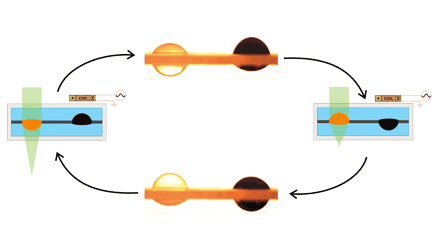 Liquidity event
The Rensselaer study, called "Electromagnetic liquid pistons for capillarity-based pumping", reveals how droplets can function as liquid lenses.
Team leader Professor Amir H Hirsa said: "'As the droplets vibrate, their shape is always changing. By passing light through these droplets, the device is transformed into a miniature camera lens."
This technology could make lenses lighter and lengthen battery life. The lenses contain no solid moving parts so won't suffer from wear and tear. That may not sit too well with manufacturers, so how such tech will be implemented remains to be seen. ®
Sponsored: Minds Mastering Machines - Call for papers now open