Google founder sinks $45m in toy boat
Page catches Ellisonian yacht bug
If you have been saving your pennies to hire one of the world's top ten yachts for a weekend getaway, we have some bad news for you: you're now down to nine. Google co-founder Larry Page just landed number eight for €35m (£29m, $45m).
"It's an adventure boat and, for its size, I think it is the best around," the yacht's former owner, Kiwi Sir Douglas Myers, told a Wellington, New Zealand newspaper about his former plaything, christened "Senses".
"I have been going around the world for the last five or six years on that. It's been pretty good fun. It goes somewhere I want to go and I fly in, take some friends and spend a month or two," Myers said, providing ample evidence that, yes, the super rich are different from you and me.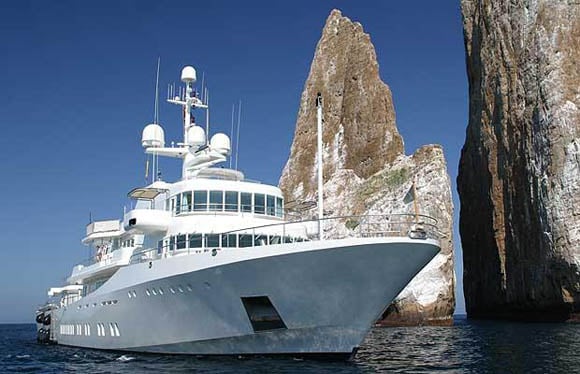 Say it five times fast: toy boat, toy boat, toy boat, toy boat, toy boat
Had you not dawdled and missed your seafaring chance, you could have chartered Senses for a weekly rate of €260,000 (£216,000, $337,000) – and that's not counting food, drink, and fuel. Of course, darling.
Now Senses will be Page's 59-meter tub toy – the tub in this case being the seven seas.
Senses may not be the most eye-catching of yachts, but its interior – designed by Philippe Starck – includes such niceties as ethnic carpets and white-linen furniture.
Bored with staying in-cabin? Then take a quick spin on one of four wave-runners, a kayak, or an inflatable – a Zodiac ProOpen, we can only surmise.
Senses also has its own helipad on its stern – just the thing to allow Page to flit from his crass craft to the Moffet Field airbase near Google's galactic heaquarters, where Page & Co. have a wink-and-a-nod agreement with NASA to park their two Gulfstream jets, along with the company's Boeing 757 and 767.
Perhaps Page will use Senses as an observation platform when fellow Silicon Valley yachtsman Larry Ellison's own überexpensive wet dream defends his America's Cup in San Francisco Bay in 2013. ®
Sponsored: Minds Mastering Machines - Call for papers now open