Philips 46PFL9705H Ambilight 46in LED 3D TV
Picture perfect?
3D, if you happen to want it
3D is best viewed in a slightly darkened room, and it's worth turning the TV setting up from a natural to a vivid picture mode to counteract the darkening effect the glasses have.

To pairs of active 3D specs are included
The 46PFL9705H has locally dimmable LEDs, like the 32in model. As before, this delivers impressively contrasty pictures with deep blacks and bright colours. There's no doubt that local dimming is the way forward for crisp, dynamic images and is increasingly the feature to look for when buying a gogglebox.
Now then, what about crosstalk? No, that's not the level of annoyance generated by fighting over custody of the remote with your significant other, it's the image degradation some TVs suffer with 3D content. It appears as ghosting effects which can damage the 3D spectacle. It's a problem absent from plasma but common to LCD.
The good news is that the crosstalk here is minimal, noticeably less than some rivals, though, sadly, not completely fixed.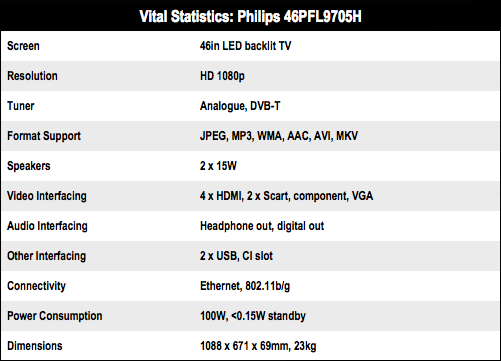 Sponsored: Minds Mastering Machines - Call for papers now open