Original URL: http://www.theregister.co.uk/2011/01/07/review_tablet_huawei_s7/
Huawei S7 7in Android tablet
The low-cost option?
Posted in Tablets, 7th January 2011 13:00 GMT
Free whitepaper – Hands on with Hyper-V 3.0 and virtual machine movement
Review Hard on the heels of Samsung's Galaxy Tab [1] comes the S7 from Chinese manufacturer Huawei, an Android tablet that aims to tread the line between the pricey Galaxy and the wretched crop of £99 devices that you can find on the shelves of Netto and Asda.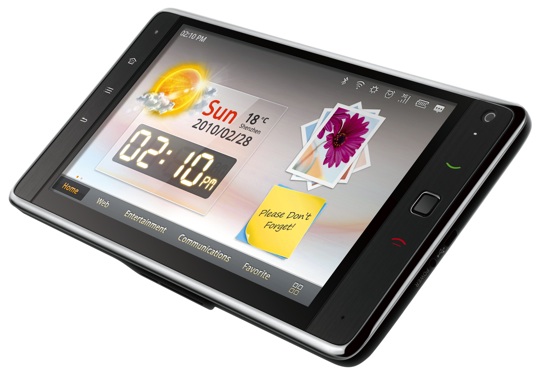 Huawei's S7: handsome
The S7 is certainly a solid and handsome bit of kit with a rather fetching polished chrome band around the face. Compared to Samsung's offering, the S7 is taller, narrower and thicker, and looks altogether more like a king-sized Android smartphone, albeit one with a handy flip-out rear stand.
Flanking the 7in, 480 x 800 resistive screen are - to the left when held in landscape orientation - are the usual Android home/menu/back buttons. To the right sits a a touch-sensitive trackpad and call keys. The edge of the device houses the volume controls, a power switch and a 3.5mm audio jack.
Wirelessly, all the bases are covered with 2.4GHz 802.11n Wi-Fi, stereo Bluetooth and HSDPA 3G connected by way of a regular sized Sim card that lives under the rear panel along with the replaceable battery. The S7 works as a fully fledged mobile phone but only in speakerphone mode when you're not using a headset.
Each side of the S7 houses a small speaker which combine to give surprisingly loud and decent quality stereo sound for both media playback and phone conversations.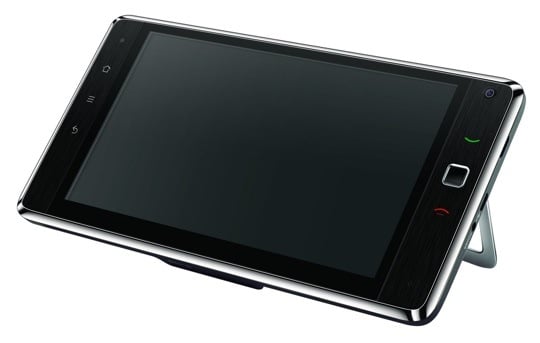 Kick-stand included
The front-facing 0.3Mp webcam will be useful for video calls if Skype or Google Talk ever gets this functionality on Android, but the rear facing fixed-focus 2Mp snapper serves very little purpose other than for the most casual snapping. Capturing QR codes seemed beyond it, for example.
---
Android accented
Huawei has fitted the S7's Android UI with its own overlay, which divides the desktop into five zones each with two screens labelled Home, Web, Entertainment, Communications and Favourites. There's a final tab to present the usual Android apps screen.
You also get a selection of 13 bespoke "Emotion" widgets for live desktop display of the time, weather, RSS feeds, incoming messages and the like. All this sits on top of Android 2.1 and though I've heard rumors of a 2.2 upgrade, I'd say that's an 'if' not a 'when'.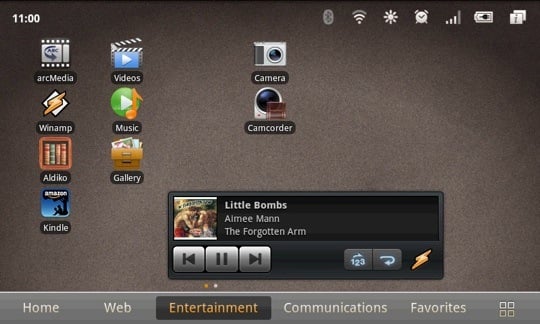 Huawei has added its own UI to Android 2.1
The 768MHz processor under the hood keeps everything moving at a fair clip and the screen, though resistive, supports a user interface that is responsive and fluid enough to make the trackpad and stylus - the latter hidden away so well I only found it after seeing it listed in the user guide - redundant. Huawei's excellent virtual keyboard is hard to fault.
The S7 comes with 8GB of built-in storage but the system presents this as an SD card so you only have the more usual 512MB of Flash to house the system software and for apps storage. After system requirements, my S7 had 160MB free which I soon started to fill so this may be an issue for app fanatics because Android 2.1 doesn't support the offloading of applications onto an SD card.
A Micro SD card slot will let you add another 32GB of storage, with the media content of both cards being presented as a unified library.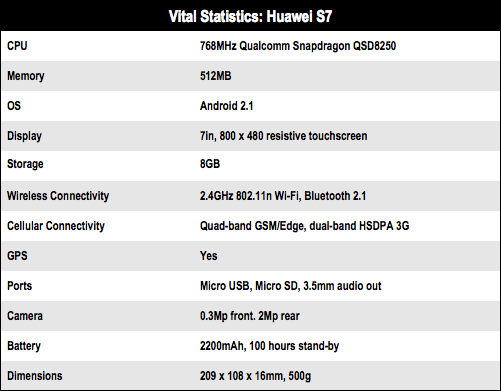 ---
Underpowered processor?
The 133 pixels-per-inch (ppi) screen is clear and bright enough to satisfy the majority of users though it lacks the absolute crispness of the Galaxy Tab's 1024 x 600, 169ppi panel. The screen flips between portrait and landscape with impressive speed when the device is tilted, and the ambient light sensor keeps the screen's brightness in concert with its surroundings.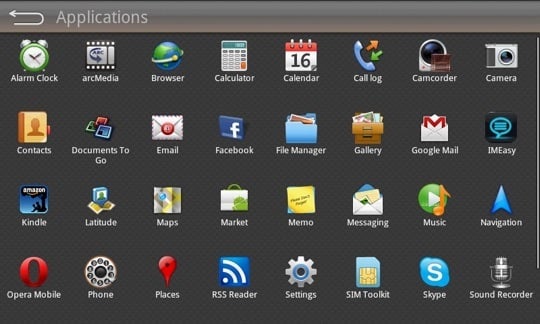 Load up your favourite apps, but carefully - space is limited
The S7 ships with the standard smartphone Android Market so as well as your Google account goodies and turn-by-turn GPS satnav, you can also download all your favourite Android apps. Well, most of them - I did notice that the eBuddy IM client was missing from the S7's Market, any maybe other goodies are too.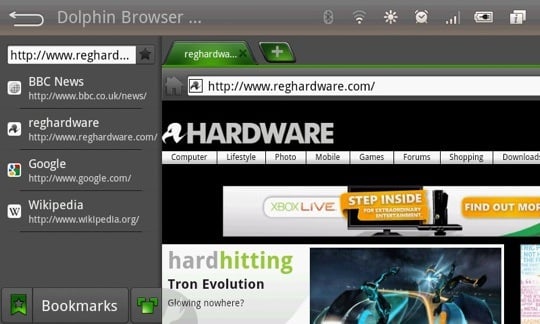 Browsing works well
Media file support extends to the usual Ogg, MP3 and AAC audio and H.264 video - the latter supposedly supporting 720p but files at that resolution didn't play anywhere near smoothly. For Xvid/DivX fans, arcMedia will pick up the slack and worked well at full screen with all the standard definition AVI files I tried. But again, 720p files struggled.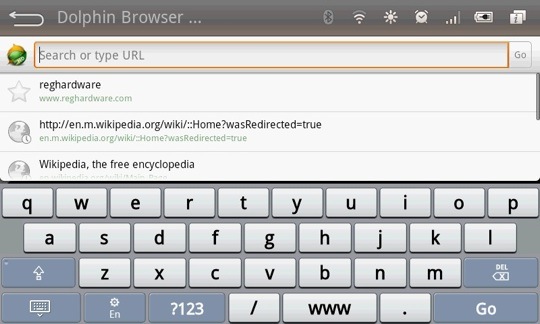 Huawei's virtual keyboard is hard to fault
The Android web browser goes about its job efficiently enough, though Opera Mobile 10.1 and Dolphin HD both upscale nicely if you want a faster or more feature-laden browser. The lack of multi-touch doesn't really get in the way of the browsing experience but the absence of Adobe Flash is more of an annoyance.
---
Battery capacity
Weighing 500g, the S7 is twice as heavy as a Kindle and 120g heavier than a Galaxy Tab, making it a bit uncomfortable to hold in one hand. Heft aside, the S7 makes a decent enough e-book reader when combined with the Kindle or Aldiko apps.
At the bottom of the device next to the Micro SD slot you will find a port for Huawei's desktop charging dock which brings with it two USB ports, an HDMI connector, RCA audio and s-video out. At the time of writing I don't have any price or availability information on the dock.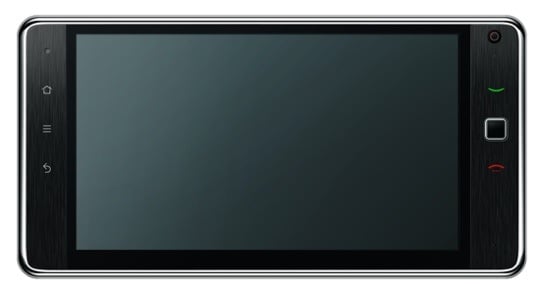 Yes, it looks like a big phone
With nearly twice the power capacity, the Galaxy Tab has the S7 firmly beaten on the battery front and it's worth noting that the S7 can only be charged using its 5V DC feed, not via USB.
How long a full charge of the S7's 2,200mAh battery lasts will depend on what you're doing. Running a standard definition video at full screen in flight mode sucked the power pack dry in two hours and 35 minutes. In day-to-day, use I got between four and five hours of connected screen-on activity between trips to the socket. This is close to the bottom of the barrel of acceptability.
Verdict
With Samsung's Galaxy Tab and Apple's Wi-Fi/3G iPad both going for around £530, the £280 S7 is fair value. Of course, compared to the iPad, the S7 is really just a big Android phone, and it's not as technically advanced as the Galaxy Tab, but I'm not entirely sure either device is better to the tune of £250. I'd personally still be inclined to wait until a proper tablet-optimised version of Android appears before taking the plunge, but I can't imagine that anyone who got an S7 for Christmas was too disappointed. ®
Thanks to Expansys.com for the review sample
More Tablet Reviews...

Samsung
Galaxy Tab [2]
Archos 7
Home Tablet [3]
Apple iPad
3G 32GB [4]
Dell
Streak [5]